"Agent Carter" pulls a heist with some help in 'The Atomic Job'
Last week I mentioned how the strength of individual episodes would depend on the minor characters and the actors' portrayals of them. Lo and behold, 'The Atomic Job' pushed the minor characters straight into the spotlight. Rose (Lesley Boone), Dr. Samberly (Matt Braunger), Violet (Sarah Bolger) and the mob boss Joseph Manfredi (Ken Marino) all play important roles in the episode.
Rose and Dr. Samberly join Agent Carter (Hayley Atwell), Chief Sousa (Enver Gjokaj) and Jarvis (James D'Arcy) as they try and steal atomic bombs before Whitney Frost (Wynn Everett) can steal them herself to create more Zero Matter. Already, Frost has absorbed all of the known Zero Matter after touching the dead woman from 'The Lady in the Lake.' Frost is now psychologically unstable and won't let anything stop her from gaining ultimate power.
Rose, getting her first taste of field work in, performs well, beating up Frost's henchmen with ease. Boone's depiction of Rose's glee and her great delivery of one-liners adds more strength to the character. Her importance can only increase from here.
Samberly, however, fails in his first foray in the field after complaining in his only other appearance about not getting respect. Braunger makes the character come off as harshly annoying, and he doesn't quite mesh well with the rest of the cast. Hopefully Samberly's failure during the mission to do the one job he was brought for is the last time he appears this season.
Frost needs help to break into the facility with the bombs, so she asks Manfredi if he can loan her some muscle. Marino does a wonderful job as Manfredi, despite only appearing in one scene. He easily switches from violence to kindness and back again, a necessity for a mob boss.
The mission, though successful in its goal to recover the bombs, had a Pyrrhic result. Carter fought Frost in a fight many were waiting for, but Frost quickly gained the upper hand. After escaping Frost and her death grip, Carter falls onto a spike, seriously impaling her. After Sousa and the rest of the team rush her to his house, the real drama begins.
Violet, who just had accepted Sousa's proposal in a scene enhanced by Bolger's and Gjokaj's chemistry, is forced to save Carter. The audience sees none of the actual care, only the aftermath, when Violet realizes Sousa still loves Carter. This unnecessary love triangle was supposed to be resolved with the introduction of Jason Wilkes, but his incorporeal state makes it an issue again. The writers feel like they need to give Violet something to do this season, but instead of involving her with the team, they create cliché drama, a flaw in a show that's supposed to be progressive.
Not a flaw of the show is its music. Composer Christopher Lennertz does an excellent job of choosing music that is both period appropriate and adds to scenes. The best example of this would be his choice for the scene when Carter steals a key from Hugh Jones (Ray Wise). The fast paced staccato music adds to the humor of the scene.
Hopefully all of the character growth (or lack of in some cases) from this episode will not be ignored. An empowered Rose and a more confident Jarvis would add a lot to the second half of the season, especially with Carter out of commission for the time being.
Show: "Marvel's Agent Carter," Season 2, Episode 5
Created By: Christopher Markus and Stephen McFeely
Airs: Tuesdays at 9 p.m. on ABC
Rating: 4/5 stars
About the Contributor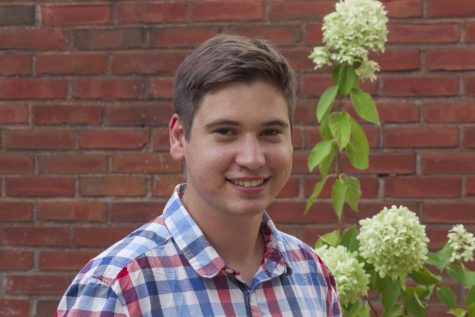 Eddie Kerekes, Executive Editor
Eddie Kerekes is in his fourth year studying chemical engineering while also pursuing a minor in German. He serves as the executive editor. Previous roles...