Music halls and thriving cities
Andrew Bird performs live show at House Of Blues
The fact that Andrew Bird came to Cleveland and performed at the House of Blues stage is still hitting me.
For seven years, I've tried to see Bird live. This included an unsuccessful attempt at convincing my mom to let me road trip to New York during my sophomore year of high school. It included countless Google searches for concert tickets, plane tickets and hotel prices. Oh, and it also included me frantically searching for car rides whenever he performed near the state of Ohio.
I was so excited to see "Cleveland, Ohio" pop up on Bird's Facebook account back in the fall semester—announced to fans earlier than it was announced on the House of Blues website. My hands were shaking as I immediately started typing an email to his press contact.
My hands were shaking again as I held a camera in front of the stage on Saturday, April 16.
In the front row, three children peered above the pit barrier, their parents watching over them from behind. The audience stretched all the way back to the bar, heads bobbing in fedoras, beanies and golf caps. When Bird walked onto the dark stage, the crowd in front of him cheered.
Bird himself was wearing a glittery black jacket, which sparkled when the red stage lights hit him. He jumped into a set which mixed his older material with his newer songs from his latest release, an album titled "Are You Serious."
Whether he was swiping a bow across his violin, strumming a guitar or whistling into the microphone, everything Bird performed that night was just as good—no, better—than the recorded versions I'd been listening to since my first major breakup in high school. Hearing the songs "Lull" and "Plasticities" live with Bird's full backing band was a fulfilling experience. The crowd swayed back and forth; the colorful stage lights flashed overhead.
Even the songs from "Are You Serious" felt like Bird's older content, but that's not to say it was repetitive or indistinct. The single "Left Handed Kisses" stands strongly on its own as one of Bird's few love songs, which he collaborated on with singer-songwriter Fiona Apple. He said regretfully, before launching in, "Sorry, Fiona couldn't make it."
The entire show was full of swelling music and poetic lyrics ("We'll fight for your music halls and dying cities / They'll fight, they'll fight / They'll fight for your neural walls and plasticities") and a few teary-eyed moments for me. When he left, the crowd immediately burst into applause that didn't quiet until Bird returned with his drummer and two supporting guitarists. They played an additional three or four songs amplified only by a couple of shared microphones.
The acoustic set was difficult to hear at first with the chatter in the back of the venue, but it was audible after the entire crowd shushed each other—I mean, people actually turned to adjacent strangers with a harsh "shhh". To see everyone respectfully tune in at a normally noisy venue was strangely special; it was something I became grateful for as I removed my earplugs and swayed to Bird's upbeat acoustic encore.
It had been a dream of mine to see Bird perform live—as if I haven't already gushed enough. To see him perform in Cleveland showed me more than just his busy tour schedule. It showed me that Cleveland is now on the map. I don't say that just from my bias with Bird; I say that from the recent announcement of Paul McCartney performing in August, or from Justin Bieber playing this upcoming Tuesday, April 26. Or even Maroon 5, or the Goo Goo Dolls, or Demi Lovato, who are all playing this upcoming summer in the city. Three years ago, I endlessly hoped for my favorite bands to visit the city. Occasionally they would, but they usually preferred booking shows in Columbus or Cincinnati, sometimes even skipping Ohio entirely.
Whether it's seeing a pop star or classic rock icon come through for stadium shows or your favorite indie star whistle onstage at the House of Blues, one thing's for certain:
When it comes to music, Cleveland is the place to be.
Concert: Andrew Bird
Date: April 16
Venue: House Of Blues
Rating: 5/5
About the Contributor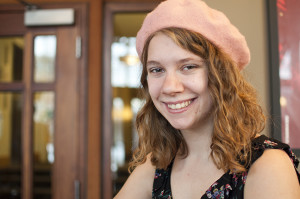 Anne Nickoloff, Director of Print
Anne Nickoloff, the Director of Print for The Observer, is a senior at Case Western. She hopes to one day be a music journalist, and has spent much of...