Asian market review
Ryan Yoo, Director of Design
August 30, 2019
For those of us who grew up on our family's homemade Asian foods or are adventurous eaters, it's hard coming to a place where finding good Asian food is rarer than a Browns win. Luckily, we found some great Asian markets where you can find your favorite Asian ingredients, snacks and home goods
Asia Food Company
Asia Food Company is located in the Asian Town Center, at the intersection between East 38th Street and Superior Avenue, and is in the same building as Miga, a Korean restaurant. Asia Food Company sells a variety of goods covering many Asian countries. The store has a well-stocked produce section with a variety of vegetables and fruits that are hard to find at Dave's Supermarket, such as daikon, durian and dragonfruit. The store has a good condiment section, selling a variety of Asian spices and ingredients.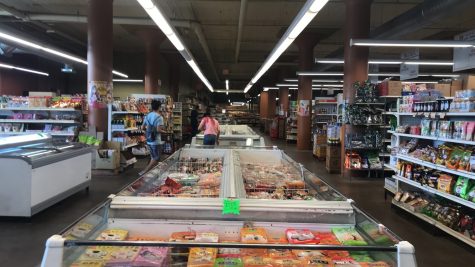 The store, however, is located in a dimly lit storage area and loses points for the overall shopping experience.  Asia Food Company does not offer a wide variety of goods overall compared to stores like Park to Shop. The home goods section is small and is less organized than Park to Shop. Nonetheless, it's still a good choice to go shopping for ingredients or snacks.
Rating: 4/5
Kim's Oriental Food
Kim's Oriental Food is a short walk from Asia Food Company, located next to Korea House, a Korean restaurant. This store is your one-stop-shop for all your Korean food needs. You can get your essential Korean ingredients from dried pollock to golbaengi-muchim, also called moon snail salad. Kim's sells a variety of Korean snacks and a variety of flavors of soju, a Korean alcohol. In addition, the store sells one of the best kimchi you'll find in Cleveland. The prices at Kim's Oriental Food, comparable to those of the other restaurants on this list.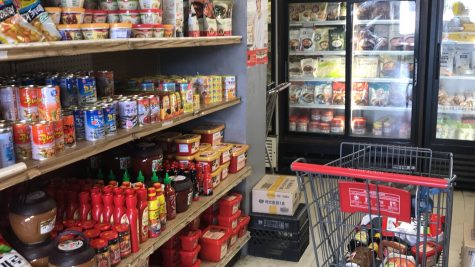 The store, however, mainly sells Korean goods and it can be hard to find products from other countries here. If you're looking for stinky tofu or ginger, you'd find better luck looking for it at either Asian Food Company or at Park to Shop. The store does not sell any fresh produce.
Rating: 4/5 for Korean goods, 1/5 for all other Asian goods
Park to Shop
Park to Shop is the biggest of the three Asian goods store and is the store most frequented by students. The store is located at the Asian Plaza and is a short walk from Li Wah, a dim sum restaurant. Like Asia Food Company, the store has a good selection of Asian sauces and spices. In addition, Park to Shop stocks a variety of Asian home goods like earthenware pots and pink rubber dishwashing gloves. The store also has a large ramen section perfect for any college student, with different types of ramen for everyone. The store also sells fish and meats, many cuts and types of which are not sold at other stores such pork belly or tongue. If you're looking for a general Asian market, this is the best place to go.
Rating: 5/5