Campuswide blackout traps students in residence hall elevators
Two different Delta Chi brothers entered two different Case Western Reserve University elevators at 10 p.m. on Monday, Sept. 7. Moments later, they were stuck, as a power outage swept across CWRU's campus.
"There's always that fear going into the Tippit elevator, of what's going to happen," said fifth-year student Jevon Montague.
Montague, the president of Voices of Glory, was returning to his room after a practice for Voices of Glory. His room is on the top floor of Tippit House, designated for Delta Chi fraternity brothers.
On the opposite side of campus, visiting a friend in Clarke Tower, second-year student Vineet Erasala entered a newly-emptied elevator, and started going up.
Both students witnessed the blackout from inside the small elevator rooms. "I thought I'd be freaking out more than I did," said Erasala. "Panicking wasn't really going to help anybody."
Erasala's elevator had already worked its way to somewhere near the eighth floor of Clarke Tower, but it slowly returned to the basement floor, on what he thinks was generator power. He tried calling security via the button on the elevator door, but the call didn't go through.
The same happened to Montague; he said the call rang for about a minute, didn't go through, and then ended, as though the person on the other end had hung up. Both students attributed this to the large number of phone calls the CWRU Police Department received that night.
Montague was able to get through to the security office with his cell phone, but Erasala had to call his friend, a resident assistant in Clarke Tower, to tell security he was trapped in the elevator.
As for figuring out the situation, they both found out about the campus-wide power outage via Facebook. Montague posted a status about being stuck in the elevator.
Erasala saw this, and the two fraternity brothers messaged each other about their situations, later joking about the coincidence.
In the meantime, Montague took out a book and started working on some homework while he was stuck in the small elevator. "It was the typical Case thing to do," he said.
Both students spent less than an hour in the elevators; Erasala exited the Clarke Tower elevator at around 10:35 p.m., and Montague left Tippit House's elevator at around 10:40 p.m.
About the Writer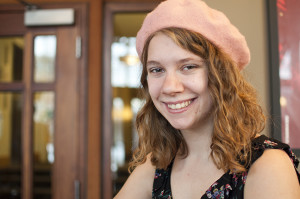 Anne Nickoloff, Director of Print
Anne Nickoloff, the Director of Print for The Observer, is a senior at Case Western. She hopes to one day be a music journalist, and has spent much of...