Bubble soccer bursts onto scene at CWRU
What do you get when you combine hard hitting action, chaos, college students, two goals, a soccer ball and 10 air-filled bubble suits? Bubble soccer, of course.
The game, invented in Norway in 2011, took off in the United States after appearances on "Late Night with Jimmy Fallon" in February 2013 and "Shark Tank" in November 2015. Case Western Reserve University's University Program Board (UPB) hosted a bubble soccer event on Saturday, Feb. 6, on the Veale Convocation, Recreation and Athletic Center courts.
UPB member Cindy Berry and Advisor Matthew Knickman saw the wave of support for the new game and both independently suggested it to UPB Director of On-Campus Committee Margaret Shull as a possible event. "At first I was a little hesitant," said Shull, due to a fear of no one participating, "but when Matt brought up the idea too, I decided to give it a try."
Two courts in Veale were closed off with wraparound netting as two teams of five players competed on each court. Each game lasted 10 minutes, and teams were only allowed to compete in one game. Every player was outfitted with a bubble protecting their body from their head down to mid-thigh, allowing hard hits without threat of injury.
Teams signed up starting two weeks in advance of the event, up until the Wednesday before. The reason many students signed up is best summarized by first-year student Jacob Wise, "It sounded like a lot of fun." It was either that or the fact that a friend coerced them into playing to fill out a team.
A game started with the soccer ball placed at center court and the two teams at the end lines, and a continuous clock began on the whistle of the referee from Cleveland Bubble Soccer, the organization UPB rented the equipment from. Two goals were marked off with cones at either side of the volleyball court, with the objective to score more goals than the other team. That's where the similarities to regular soccer ended. Players generally chased after the ball and the only strategy was deciding whom to hit and when to hit them.
Most of the participants I talked to said hitting other people inconsequentially was the best part of the game. "It's the only contact sport where you're not gonna die," said fourth-year student Joseph Lerchbacker.
Fourth-year student Hayden Schmackpfeffer took a different route in his description. "It's all the appeal of getting hit by a car, without the injuries," he said.
The hard hits were also the main attraction for the spectators, mostly other participants waiting for their game, as well, ooh-ing and aah-ing at well-timed hits. Many a spectator had a camera out, whether in the form of an iPhone or a GoPro, filming their friends and trying to capture the best collisions.
UPB ensured participants' safety with two separate waivers, said Shull, and a team from CWRU Emergency Medical Services (EMS) on hand for the whole event. Unsurprisingly for a sport where players are literally encased in a bubble, the EMS team went unused. "We tried to keep it really safe with the tables, so that people can't walk past unless we actually know that they're gonna play soon," added Shull, describing tables set up near the courts that blocked anyone from entering the play area without checking in.
For both UPB and participants the event was a roaring success. According to Shull, 375 students participated, well exceeding the expected turnout of 150-200. The event was fun too, as every participant interviewed said they would play again, with answers ranging from "definitely" (first-year student Patrick Do) to "absolutely" (second-year student Ethan Cravener).
Every player was drenched in sweat afterward because, according to second-year student Frank Percic it was very hot in the bubbles.
In addition to the high numbers, UPB reached new demographics. Around 80 percent of the participants were male and at least five fraternities had teams compete, which is unusual for UPB events. "A lot of the time we rely on freshmen to come to events," said Shull.
Shull stated that they get freshmen to attend by getting professors to offer extra credit in large lecture classes. All four years were represented well, and extra credit was not needed for the event.
Bubble soccer may just be a fad, but at CWRU it provided undergraduates with something fun to do on a lazy Saturday afternoon.
Leave a Comment
About the Contributor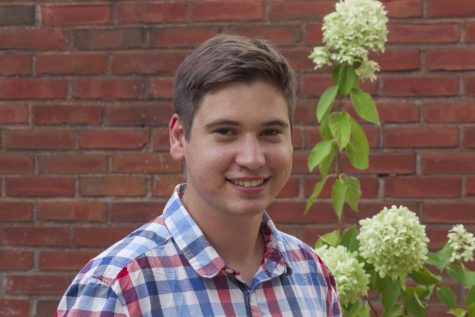 Eddie Kerekes, Executive Editor
Eddie Kerekes is in his fourth year studying chemical engineering while also pursuing a minor in German. He serves as the executive editor. Previous roles...