Carbon Origins takes their Apollo board to CES
CWRU-founded startup will seek out beta testers and investors at the international trade show
Sometimes real innovation is what happens while in the process of solving a different problem. Carbon Origins, an aerospace startup founded in 2013, needed a way to log the data from their rocketry projects so that if a launch went awry, they could figure out why. It was this need which inspired the creation of the Apollo board, a data logger with 11 different embedded sensors to measure everything that would be helpful for a team of rocket scientists from temperature to speed and location. They soon realized that this was a tool that could be of use to many industries and developers.
Carbon Origins itself was born out of this knack for problem solving. The team met while at Case Western Reserve University when Amogha Srirangarajan, the CEO of the company, founded the Lunar robotics club and met the other students who would eventually form the engineering team. "A hobby became an obsession which became a passion. We found out that there were problems we were having that other people had, so we decided to go forth and start a company," said Srirangarajan. The group moved from Ohio to the Mojave Desert where they bought a house which would become their home and lab.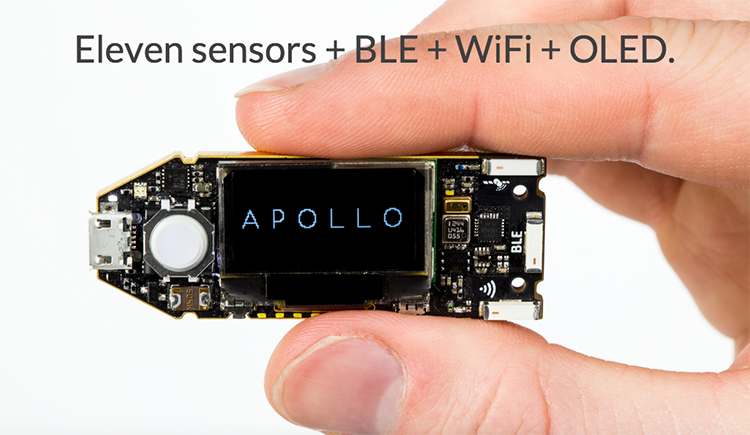 It was during one of the launches from this desert location that the Apollo saw its test flight. "We launched one of our rockets and there was a catastrophic failure during flight… we downloaded the data and it was incredible the amount of data we'd gotten. We realized that this had applications way beyond rockets," said Srirangarajan. And it would appear that consumers agree. In September of last year, the team went to the World Maker Faire in New York where the Apollo board became a sensation. Since this event, Carbon Origins has gotten 3000 people to sign up as beta testers who will take the board and see what they can build using the existing structure of Apollo's hardware and software package.
The team is looking to get at least 2000 additional testers at the International Consumer Electronics Show from January 6 to January 9 in Las Vegas. Last year, the team attended the show as a part of Blackstone Launchpad's group of startups at the organization's booth. This year, the team will still be a part of the Blackstone and think[box] group, but has their own pair of booths to show their product to potential investors, testers and future customers.
Srirangarajan and Carbon Origins have a clear idea of what they want to achieve during the show. In addition to gaining more testers and pre-orders, the team hopes to get real-time feedback from potential customers and industry professions to see how they can improve their product or create a better link for those without interest in doing their own product development. "We see the product going from a developer product to a consumer product. There's a gap in the market where something needs to come out that is application independent… It's something that's not being done in the wearable computer technology industry," said Srirangarajan.
The company mainly is looking to put this opportunity to good use. Having developed their organization using the assistance provided by Blackstone and think[box], Carbon Origins wants to continue moving forward to get this product to market and grow their team. The Apollo board will be among the 12 products pitching for a group of venture capitalists and investors at the ShowStoppers Launchit pitch competition and will surely be one of the more popular products coming out of a startup in the show this year.
We will be covering Carbon Origins' progress and the developments from the team as we keep track of all the latest from CES 2015. Follow their story on Twitter or at observer.case.edu.