Concert calendar: A look at this week's upcoming performances
Every week in Cleveland is a week to see live concerts. However like any other week, it's difficult to see them all. Dozens more of Cleveland's concerts are just waiting to be experienced.
For a head start to choosing a week of music, here are five upcoming Cleveland shows:
Date: Oct. 2, 2015, 9 p.m.
Band: Laetitia Sadier/Uno Lady
Venue: Mahall's 20 Lanes
Price: $10-12
Laetitia Sadier's woozy, French-infused singing makes for an easygoing night. Sadier is more well-known as the singer of alternative band Stereolab, but her pared-down solo stuff is much lighter. It'll go well with Uno Lady's one-woman performance, where she impressively loops music into layered songs in front of a live audience.
Date: Oct. 3, 2015, 1 p.m. – 10 p.m.
Concert: Hingetown Hoedown Folk & Bluegrass Festival
Location: Intersection of Church Avenue and West 29th St.
Price: Free
Ohio City will be overrun with bluegrass and folk, featuring the headliners The Wayfarers and Honeybucket. It's probably the one chance you have this year to break out square-dancing and (maybe) fit in. Plus, it's free; what a way to spend a day in Cleveland.
Date: Oct. 3, 2015, 9 p.m.
Band: The Internet/Nick Davey/Marcus Alan Ward
Venue: Grog Shop
Price: $18-20
The Internet's funky, alternative R&B breaks away from the lengthy sugar-sweet vocals that can be typical of the genre. Instead The Internet includes a funky, fast-paced beat in almost all of their songs that is sure to get feet moving at their Grog Shop show this Saturday.
Date: Oct. 7, 2015, 10 p.m.
Band: Health&Beauty
Venue: Happy Dog Detroit Road
Price: $5
Health&Beauty, a light rock band from Chicago, Illinois, is simple. And sad … pretty damn sad. It'll be a different sort of ambiance for the normally noise-filled restaurant.
Date: Oct. 8, 2015, 8:30 p.m.
Band: The Nate Jones Band/Maura Rogers & The Bellows/Guggy
Venue: Beachland Ballroom
Price: $10
Enjoy a night of cheap, local music at the Beachland Ballroom. While the Nate Jones Band brings in a fuller country-tinged feel, Maura Rogers & The Bellows scale the genre's feel down to a simple, heartfelt singer-songwriter performance. It's a CD release show, so if you like it, you can buy it.
Leave a Comment
About the Contributor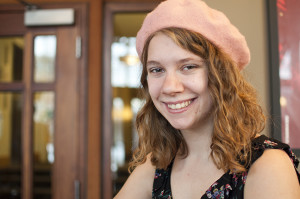 Anne Nickoloff, Director of Print
Anne Nickoloff, the Director of Print for The Observer, is a senior at Case Western. She hopes to one day be a music journalist, and has spent much of...