Cultural groups come together for Night Market
This past Saturday, March 28, Thwing Center's atrium transformed into a market of different foods and stores at World Expo: Night Market, the first collaborative event between cultural groups.
Though this was the first time the event has occurred, President and founder of The International and Multicultural Exchange (TIME) Brittany Chung said that planning for the event started in the fall of last year.
The Night Market was a collaboration between TIME, Taiwanese American Student Association (TASA), Asian American Alliance (AAA), African Student Association (ASA) and La Alianza. The theme of the night itself came from TASA, the group which took the lead in planning the event.
Different booths included foods like bubble tea, pad thai, peanut brittle and candies. Others included ornate elephant statues for sale, bowl painting and bracelet-making.
Nana Afia Mensa, a member of ASA, sold foods at her booth for the majority of the event, but had the chance to explore other booths during downtime.
"It was pretty cool that we were able to collaborate together," she said. "I think collaboration is very important to cultural groups."
Mensa also stated that the event allowed ASA to present to a group of people they would not have normally been able to reach. This helped the group advertise its upcoming cultural show, Africa Rising: From the Ground Up, on April 11.
World Expo used tickets instead of currency for goods at each of the different booths. Tickets were 50 cents each, and items could be bought for varying amounts of tickets. Once the cultural groups got their tickets, they were later reimbursed for the monetary amount of the tickets.
According to Chung, all money earned through the tickets was pure profit for the organizations involved. "At this time of year, some groups have started scrounging for cash," she said.
World Expo: Night Market is the start of what will hopefully become a tradition. Though only 10 organizations had booths this year, Chung said that even more groups wanted to be involved next year and continue to expand the inclusive event.
In a year with as much focus on diversity as this, World Expo: Night Market was a chance for all types of students to celebrate the cultural differences inherent to Case Western Reserve University's student body.
"All these groups were able to come together under a unifying theme," said Chung. "It was pretty inspiring. No matter what our differences are, we should be able to come together and unite."
Event: World Expo: Night Market
Date: March 28
Location: Thwing Center Atrium
Leave a Comment
About the Contributor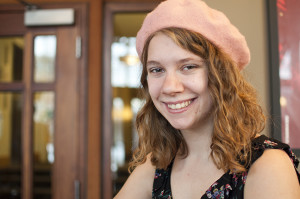 Anne Nickoloff, Director of Print
Anne Nickoloff, the Director of Print for The Observer, is a senior at Case Western. She hopes to one day be a music journalist, and has spent much of...