CWRU shuts down Jolly Scholar event amid student protests
In a decision made by Case Western Reserve University, The Jolly Scholar's "Make America Jolly Again" event was cancelled the afternoon before it was to be held. The decision was made earlier that day after bar and restaurant owner Matt Vann received a letter from a large number of diverse student organizations.
The event was scheduled for the evening of Friday, Jan. 26, and after CWRU made the decision, Jolly Scholar removed the event from their Facebook page and made an announcement shortly after 9 p.m.
A multitude of student groups' executive boards began a discussion to send the email after La Alianza members brought their concerns to the group's executive board meeting the day before. The executive board reached out to leaders in other student organizations, who echoed their concern about the event's theme.
The event was a play on President Donald Trump's campaign slogan, and would feature red baseball caps, similar to those used by Trump's campaign, with the event's name written on them.
"The red cap and its slogan have become a symbol for hate and bigotry in this country," said La Alianza president Justine Bernacet. "It is no longer a marketing tool of a presidential campaign—the slogan is used by hate groups and extremists nationally as a rallying cry for violence and abuse against marginalized communities, particularly communities of color, Muslim communities and LGBTQ+ communities. The red cap is worn by many of these groups in the name of a radical doctrine that would call for the submission of these minority groups to a white, Christian elite."
She continued, "While it might be hard for many members of the CWRU community to understand, many of us do not see it as that big of a jump from wearing these red caps to white hoods."
La Alianza supports Hispanic and Latino members of the campus, and acts as a forum for discussion and activism. When The Observer spoke with Bernacet, she had not been informed by CWRU that they had intervened and shut down the event. The letter was sent from her email address.
Vann responded to those who sent the letter on Monday, Jan. 29, explaining that his goal was not to "offend or be ignorant," but instead spark a discussion among "young brilliant minds" before Trump's State of the Union Address on Tuesday, Jan. 30. In the letter, he apologized, stated he is a Democrat, is unhappy with the Trump administration and explained why he used "Jolly" outside of the restaurant's context.
The letter stated: "If I missed the mark with the hat, I apologize.… It is insulting to say that this country is no longer 'great' like the original Trump hat obviously insinuated and then attack the minorities of this country … which is why I attacked the word 'Great' and substituted the word "Jolly."
He stressed to The Observer that he was hesitant sharing his letter, and would have preferred to wait for other parties to respond first.
A copy of the letter was sent to President Barbara Snyder, Vice President of Student Affairs Lou Stark, Director of the Office of Multicultural Affairs Naomi Sigg and Vice President for Inclusion, Diversity and Equal Opportunity Marilyn Mobley. The Jolly Scholar rents its location in Thwing Center.
On Facebook, many people reacted to the event's cancellation with dismay. The Observer spoke with some of them.
"I think students overreacted to the event," an alumnus who lives in the Cleveland area said. "To me, it seemed pretty obvious it was just meant to be a fun event based on a play on words, not a political statement. If I were to just assume it was one, it looked more like a mockery of Trump's slogan than an endorsement of him."
Alumna Isabelle Haney, class of 2017, shared sentiments, emphasizing a "very tense" political climate, and Jolly Scholar's attempt to "be a place for people to gather and take a break from the seriousness of school and life."
On Feb. 3, the La Alianza event "Noche Latina the Return of Noche Latina" will be held at the Jolly Scholar. The group hosts the Noche Latina events multiple times each year at the restaurant.
Leave a Comment
About the Writers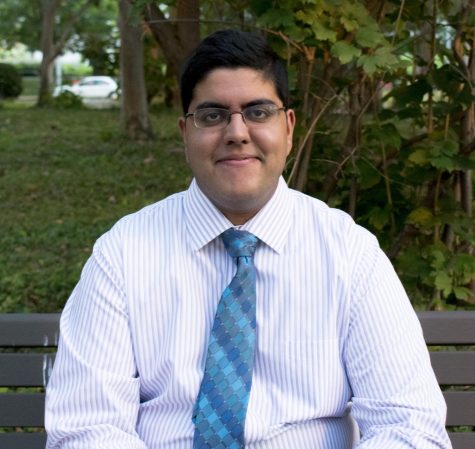 Kushagra Gupta, Director of Print
Kushagra Gupta is a cognitive science and biology student and is working towards a masters in medical physiology. He's served as The Observer's The Director...