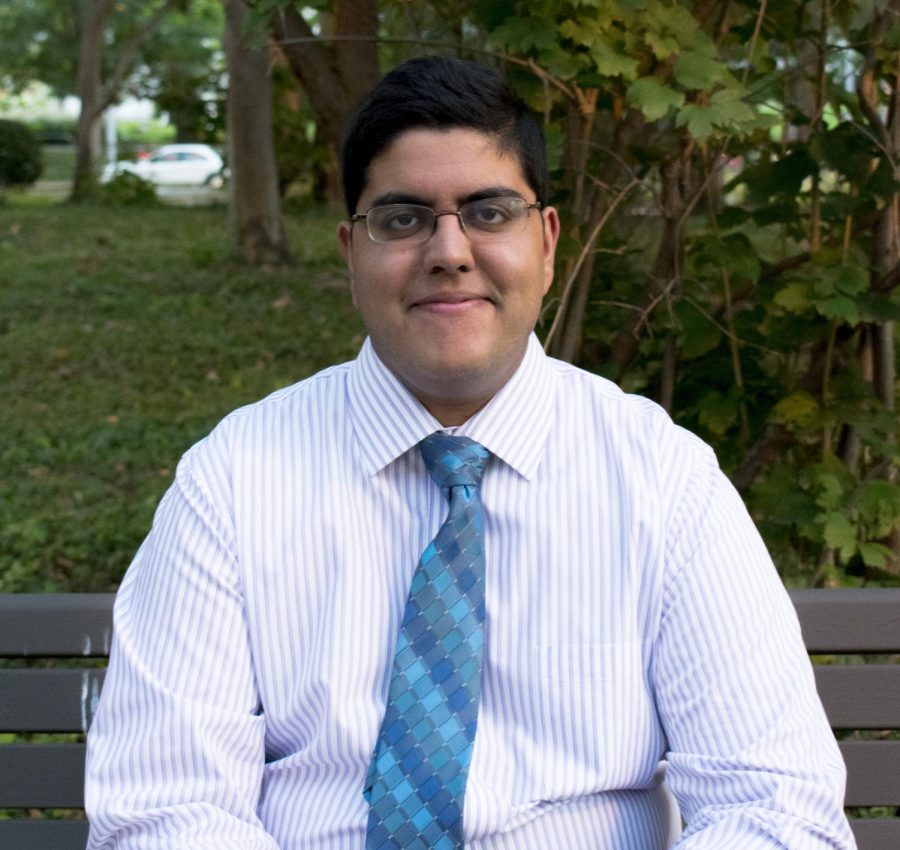 Kushagra Gupta is a cognitive science and biology student and is working towards a masters in medical physiology. He's served as The Observer's The Director of Print since January 25, 2017.
Outside of The Observer, Kushagra was the Chair of the University Media Board and sat on the Student Presidents' Roundtable of the Student Executive Council. He was co-president of the Cognitive Science Student Organization, a member of Alpha Phi Omega and is involved in research and volunteering on campus. Kushagra also currently works as the managing editor of the satire magazine, The Athenian.
During his spare time, Kushagra likes to go out and spend time with friends. When he isn't with friends, he makes use of an armchair to read or watch TV shows. His favorite part about technology is that it is a one-way stop to either. You can reach Kushagra at
kbg26@case.edu
.
Kushagra Gupta, Director of Print
Apr 13, 2018

Gupta: The times go on for CWRU journalism and for me

(Story)

Feb 09, 2018

Overcrowded Latinx music night spirals out of control

(Story)

Feb 02, 2018

CWRU shuts down Jolly Scholar event amid student protests

(Story)

Sep 22, 2017

Strategic plan charts three years of change to campus life

(Story)

Sep 15, 2017

Students, staff came together to overhaul Thwing

(Story)

Sep 08, 2017

Renovated Thwing contains more student spaces

(Story)

Aug 25, 2017

Second-year suites reassigned to first-years in Clarke Tower

(Story)

Aug 25, 2017

Menstrual product dispensers placed in campus bathrooms

(Story)

Aug 25, 2017

CWRU watches solar eclipse during First-Year Orientation

(Story)

Jul 23, 2017

Behind the petition for change to the sexual misconduct policy

(Story)

Jul 19, 2017

Loosen up at the weekly Wade Oval concert

(Story/Media)

Apr 28, 2017

Why they march for science

(Story)

Apr 21, 2017

Inside the lives of two student entrepreneurs

(Story)

Apr 17, 2017

Communication chaos confuses CWRU

(Story)

Mar 31, 2017

Israel's CWRU hosts international, Israeli speaker

(Story)

Feb 17, 2017

Number of applications for class of 2021 breaks record

(Story)

Feb 10, 2017

Campus leaders differ over new constitution when funding student groups

(Story)

Feb 03, 2017

Kiosk for personalized greeting cards now in Thwing

(Media)

Feb 01, 2017

Meetup for demonstration at Market Square planned

(Story)

Jan 20, 2017

International studies: how two CWRU students spent their winter break

(Story)

Dec 09, 2016

The Feminist Collective raises money for Planned Parenthood

(Story)

Dec 02, 2016

UHCS, KSL team up to host relaxation sessions

(Story)

Nov 18, 2016

Despite friction, USG, UDC see unity ahead

(Story)

Nov 11, 2016

Chabad, Radical Student Union holds events at odds

(Story)

Nov 04, 2016

SAGES through the ages

(Story)

Oct 28, 2016

Commission report examines first-year schedules, general education requirements

(Story)

Oct 28, 2016

WISER fundraising sponsors education for girls in India

(Story)

Sep 23, 2016

CWRU Sierra Club member lobbies for clean energy

(Story)

Apr 22, 2016

Nepalese couple wins outstanding international graduate student award

(Story/Media)

Apr 01, 2016

Recycling as a journey, a student's career

(Story)

Feb 19, 2016

Gupta: A new blueprint for greenie routes

(Story)

Feb 19, 2016

HackCWRU brings student inventors together for 36-hour marathon

(Story)

Feb 12, 2016

Cleveland asks Tamir Rice's estate for $500

(Story)

Jan 31, 2016

Israel's CWRU to bring refugee Jonathan Elkhoury to speak on campus

(Story)

Nov 13, 2015

Crime at CWRU: Opinions

(Story)

Oct 30, 2015

Whether 'grabbing' or 'bagging,' lunch now without plastic bags

(Story)

Oct 02, 2015

Students felt unsafe in hectic, cramped UPB ticket line

(Story)

Aug 21, 2015

From the White House to his own lab in Glennan's basement

(Story)

Jul 30, 2015

If not feeling Uptown, don't rule out downtown

(Story)

Apr 24, 2015

Malaria: the story of a mother and her child

(Story)

Apr 17, 2015
Apr 10, 2015

Grow your own virus

(Story)

Apr 03, 2015

Senior nursing student investigates how transport may affect patient health

(Story)

Mar 27, 2015

The search for cancer-fighting drugs and the discovery of a senior's passion

(Story)

Mar 20, 2015

How researchers can take advantage of television broadcasts

(Story)

Feb 27, 2015

Viruses and the science of smell

(Story)

Feb 13, 2015

SEC begins deliberations on student activities fee allocations

(Story)

Feb 13, 2015

Junior designs process to help automate cell imaging

(Story)

Feb 05, 2015

Student designs research program on obesity interventions in urban youth

(Story)

Jan 30, 2015
Jan 23, 2015

Colon cancer: Two different tumor worlds

(Story)

Jan 16, 2015

Researcher finds that boys and girls react differently to witnessing intimate partner violence

(Story)

Dec 05, 2014

Researchers use spice to fight cancer

(Story)

Nov 14, 2014

Researcher uses a plant grown vaccine to help fight breast cancer

(Story)

Oct 17, 2014

Psychologist studies how pretend play helps coping and creativity

(Story)

Oct 03, 2014

Cancer drug's inner workings help explain why some patients don't clot

(Story)

Sep 26, 2014

Researcher studies effects of HIV on the immune system

(Story)

Sep 12, 2014

Researcher identifies gene that causes rare brain disease

(Story)

Sep 05, 2014

Weatherhead researcher publishes book on business and society

(Story)

Aug 29, 2014

Spotlight on Research

(Story)

Jul 14, 2014

Doctoral student finds entitlement leads to sexism in men and women

(Story)

Apr 25, 2014

First-year mentoring program expanding

(Story)

Apr 18, 2014

Cognitive science researcher studies how to mentor others

(Story)

Apr 11, 2014

Students, community members asked for feedback on next master plan

(Story)

Mar 28, 2014

Researcher finds fungus that could lead to cure for mouth infection

(Story)

Mar 22, 2014

CWRU student takes center stage

(Story)

Feb 28, 2014

Researcher finds biological mechanisms behind deadly type of breast cancer

(Story)

Jan 23, 2014

Student researcher examines chaperone protein using NMR, mathematical software

(Story)

Jan 16, 2014

Graduate student identifies new way of understanding genetic influence on common autoimmune diseases

(Story)

Dec 08, 2013

Fifth-year graduate student finds client-therapist relationship crucial in treatment in PTSD

(Story)

Dec 06, 2013

The spontaneity that is college

(Story)

Nov 22, 2013

Fourth-year student hopes to make career out of research

(Story)

Nov 15, 2013

Fourth-year researcher leaves legacy of research with MRI, PTSD projects

(Story)

Nov 08, 2013

Research looking to minimize damage caused by placing electrodes into brain

(Story)

Nov 04, 2013

Researcher lectures about Netherland's euthanasia policy, potential US implications

(Story)

Oct 24, 2013

Second-year's project hopes to set international quality standards for photovoltaic connectors

(Story)

Oct 11, 2013

Student researcher's jet engine project halted

(Story)

Sep 27, 2013

Third-year student takes lab into the ambulance

(Story)

Sep 20, 2013

Physicist to design new MRI scanner, nets $600,000 grant

(Story)

Sep 13, 2013

CWRU School of Medicine researcher earns third NIH grant to study psoriasis

(Story)