CWRU startups shine in Sin City
Blackstone Launchpad, think[box] sponsor teams of students, alumni to exhibit at the International CES show
While Cleveland was getting hit with another round of snow, some members of the campus community hit the road to sunny Las Vegas to heat things up at the International Consumer Electronics Show. The annual event, one of the largest trade shows in the world, is a mecca for technology startups and corporate giants alike, who converge on Sin City for four days of product releases, conference sessions and networking.
Blackstone LaunchPad and think[box] sponsored six startup companies to exhibit at the show. The companies included those founded and run by current students and those at least partially run by CWRU alumni.
The teams all had different goals heading into the show. Some wanted to earn start-up capital, others needed partners in technology or software development and others just wanted to gain some recognition.
Everykey, for example, put the focus on getting their brand known by potential customers in the wearables industry. They had several key meetings with high-level companies and were chosen as one of the 12 finalists in the prestigious ShowStoppers LaunchIt pitch competition.
SpiroSano, on the other hand, came into the show with a plan to find more business partners. The company, which has developed a software platform to help doctors track the progress of their patients' respiratory health, spent time walking the show floor to make connections with companies selling health-tracking devices that could be set up on SpiroSano's platform.
"We were pleasantly surprised at how many of the right people were at the show and how open they were to our product," said Jacob Glenn, a CWRU alumnus and co-founder of the company.
Event38, a company which manufactures and sells unmanned aerial vehicles for commercial use, also spent a great deal of time touring the other exhibits. The company found that their perspective needed to shift as they try to reach the next level.
"We're thinking now about getting out of the day-to-day and thinking more big picture. Being here put things in perspective," said founder Jeff Taylor.
Spartan Yoyo Works lured in attendees with the splashy yoyo work of Zachary Lerner, one of the founders. For this company, their biggest achievement during the show was obtaining samples of an expensive and useful filament that they'll use to develop a new model of yoyo. The key of the show for Lerner and his partner Vincent Cozza was the experience of discussing your product with industry professionals.
"I came away more confident about my product and more confident about my ability to create that product," said Lerner. "We got the experience of standing behind an idea with people who have ideas as good as your own."
Sharing a table with Spartan Yoyo Works was Erik Beall with HemaImaging. Beall was demonstrating the power of the company's first product, the HemaImager, which is a smartphone-integrated thermal imaging device. He was also talking up their new product, the HemaVision, an independent device with greater function and resolution. The major takeaway for Beall was the importance of the HemaVision in the current market.
"The biggest thing I learned was that people are looking for solutions and working really hard to find it," said Beall.
Hosting a separate booth and bringing in the heaviest traffic was Carbon Origins. Exhibiting the Apollo, a small circuit board with 11 separate sensors and bluetooth connectivity, the Carbon Origins team was working hard to complete their objective of having 5,000 beta testers and making connections with different industries to develop new applications.
Led by CWRU student Amogha Srirangarajan, the aerospace hardware development group exceeded its goals and realized its product was one that a lot of people had been looking for. The next step is finishing the beta testing period and going forward with full commercialization.
Bob Sopko, the director of Blackstone LaunchPad, was pleased with CWRU's experiences during the show, especially compared with the presence of other universities. While other schools had one booth each, CWRU had a sprawling six-booth area drawing in attendees with flashy displays and a focus on engineering.
"We wanted to increase the presence for Case in general," said Sopko. "There are potential partnerships for the companies. It's too early to see, but the companies, particularly Everykey, Carbon Origins and SpiroSano, had a tremendous show."
Blackstone Launchpad, think[box] and all of the startup companies are looking to keep the momentum going in 2015. Most of these organizations are planning crowdfunding campaigns, product launches or redesigns in the next 12 months.
About the Contributor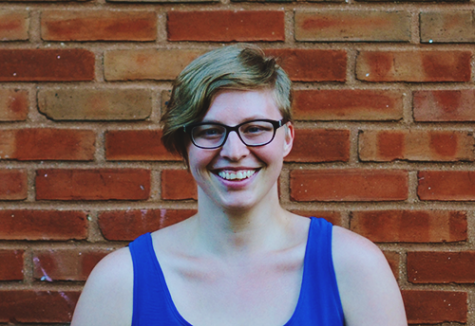 Katie Wieser, Executive Editor & Publisher
Katie Wieser is a fourth-year student working on her B.A. in Economics and is proud to serve as The Observer's Executive Editor this year. She has previously...