CWRU student takes center stage
Sophomore heading to England to compete in Irish Dancing World Championship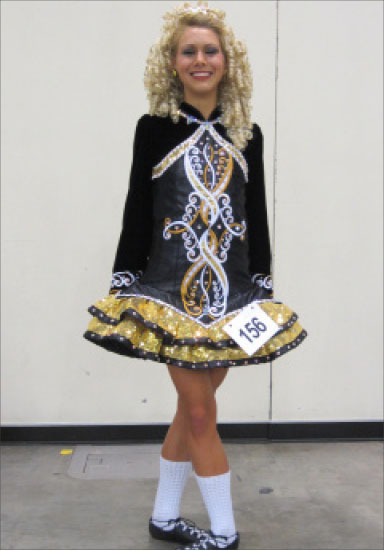 In her spare time, Ellen Kuerbitz reads, coaches a high school cross country team and Irish dances. The latter will send her to the World Irish Dancing Competition in London, England this April with her dance troupe.
Kuerbitz was five when she began dancing. Since then, she has been industriously following her passion, succeeding in local, regional, national and international competitions. In high school, she even joined cross country and track. Her schedule was rigorous, but she kept practicing and has performed solo and in groups multiple times across the United States. As the youngest child in the family, she saw her siblings leave home for college.
When it came down to choose one herself, she realized that she wanted to leave home but preferred to stay in Cleveland.
"I knew that I wanted to keep dancing in college and didn't want to switch to a different dance school," she says. "I wanted to stay with the teacher I was already with."
Sticking with her passion has paid off, as this is the third time she will be going to a world competition. Previously, she has gone to one in the United States and Ireland. Last time she was at a world competition, she had plenty of opportunities to explore. This time, however, she's planning on leaving only a small amount of time for sightseeing, as she doesn't want to miss too many classes. Kuerbitz also visited London when she was a lot younger.
In competitions, dancers can perform in teams or do solos. In the upcoming one, Kuerbitz will be performing in a team.
When comparing the two, she says, "They're pretty different. Since I was in college, I've mostly focused on solos."
When the opportunity arose to dance with this team, Kuerbitz had to let her individual pursuits step aside.
While the style for Irish dancing is the same for the most part, there are different dances and several different types of music. Dancers can wear soft or hard shoes.
She explains, "Soft shoes are light. There's a lot of movement and jumping. For the hard shoes, there is a lot of movement and jumping, but the focus is rhythm and sound."
Although she has gone to the international competition twice before, she still keeps a rigorous practice schedule. She spends between eight and 10 hours each week practicing, and she picks up the pace to incorporate practice into her everyday routine before a big competition. Her dancing school is about 15 minutes from campus, and she uses her car to go back and forth.
This time commitment actually makes many people stop dancing after they graduate high school; Kuerbitz was one of the few that chose to continue. However, the number of people dancing drops even more after graduating from college.
She imagines that the time commitment will end up taking a toll on her after college. Kuerbitz hopes to keep up with her passion by becoming a dance instructor, as the World Irish Dance Association certifies these teachers.
Even now, keeping up with work is tough. As a biology major, she had two exams the second day of classes after spring break.
"But", she laughs, "I do it in between. I do it on the weekends, when I'm not dancing."