CWRU watches solar eclipse during First-Year Orientation
A crowd of students and families gathered at Kelvin Smith Library earlier this week, but this was no book fair. It was time to gaze up at the sky, safely, because an eclipse was happening right in time for First-Year Orientation.
Case Western Reserve University's Astronomy Department took the opportunity to host this solar eclipse viewing. In Cleveland the eclipse was only a partial one, lasting from 1-4 p.m. on Aug. 21.
"People have been coming in droves," said Chris Mihos, professor of Astronomy. "We didn't expect this many people until it dawned on us that this was occurring. We thought, 'Oh boy, now we're going to get a crowd.'"
Booths for First-Year Orientation filled KSL, but the festive vibe of what was happening in the sky couldn't be shaken, and families inside stepped out to peek at the sun through viewing glasses. The popcorn stand near the single study pods said it all.
On the oval, the sky-watching technology was out in full force: two telescopes were positioned to allow attendees to view the eclipse through an eyepiece and another to project what was happening in the sky onto a white square, for safe viewing. (The telescopes in which the eye pieces were in use were modified with Mylar sheeting, the same film that is used in viewing glasses to avoid eye damage.)
Devices for looking at events in the sky safely can also be cheap and homemade. Beyond the low-cost viewing glasses—available to borrow—two quick camera obscuras had been constructed earlier that morning. They were made out of cardboard paper, tape, a yardstick and aluminum foil.
Biology Professor Richard Drushel and his wife, Erin Drushel, built their own viewing devices out of boxes, film and the cardboard tubes from wrapping paper and paper towel rolls. They relaxed on the edge of the oval towards Euclid Avenue. One had originally been built in 1994 by professor Drushel to watch a previous eclipse with his sons; he repaired it over the past few days.
Astronomy professor Earle Luck and Mihos, along with others, stood by the telescopes, helped those standing in line to use the purchased telescopes and made minor adjustments every few minutes to keep the lens moving as the sun did across the sky.
I watched the end of the eclipse at the Warner and Swasey Observatory on top of the A. W. Smith building. Associate Astronomer Charles Knox, an alumnus of Case Western Reserve University, manned the observatory's 123-year-old telescope, which made gradual automatic movements, meaning only occasionally adjustments to its trajectory had to be made.
The telescope was also projecting onto a white square, over which the last portion of the moon leaving the sun could be seen around 4 p.m.
Leave a Comment
About the Writer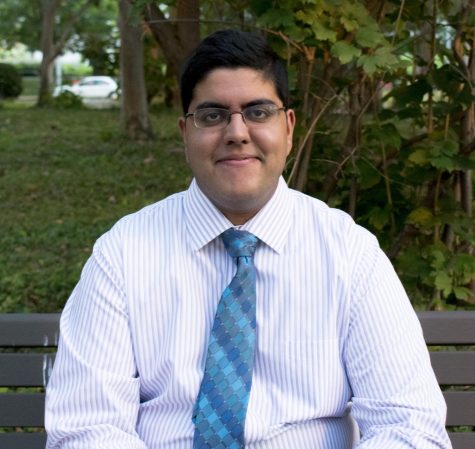 Kushagra Gupta, Director of Print
Kushagra Gupta is a cognitive science and biology student and is working towards a masters in medical physiology. He's served as The Observer's The Director...