Engineering, business jobs dominate career fair offerings
But for those in the College of Arts and Sciences, options greatly limited
Students in the Case School of Engineering are in luck. This year's University Career Fair has the most opportunities for them.
It'll take place on Oct. 1, in the Veale Athletic Center from 11 a.m.-3 p.m.
According to analysis of the employer guide listed on the Career Center's website, 33 organizations or companies are recruiting specifically computer science and computer engineering majors. Besides computer science (which, pending on the degree obtained, can be from the College of Arts and Sciences or the College of Engineering), the top eight majors most desired by companies are out of the School of Engineering or Weatherhead.
Each major in Weatherhead and the School of Engineering have at least one employer looking to hire their students. But for two-thirds of majors in Arts and Science, no employer has listed that they are recruiting specifically their students. In other words, for Art Education, Sociology or Spanish majors (to name a few), no organization specifically identified them on the guide.
On the bright side, 26 companies or organizations are recruiting all majors. Eighteen are recruiting all majors from Arts and Sciences in general too. That number is still well short of Engineering's 42, and Weatherhead's 32. Nursing majors have it worst, with only four opportunities specifically recruiting from their school.
At the time of analysis, there were 127 employers. The Career Center has added companies since, but it is a minor amount.
Director of the Career Center Thomas Matthews noted that he recognized the "discrepancy" between the majors. He attributes it partially to national employment trends.
Matthews still thinks that the fair is beneficial for both Nursing and Arts and Science students, and encourages them to talk to companies they may be interested in, even if the guide doesn't say they are hiring the students' specific majors. He says that the person filling out the description for the guide often isn't the same person manning the booth at the fair, so if students can sell why they'd be valuable to a company, they can sometimes find an unexpected opportunity.
Leave a Comment
About the Writer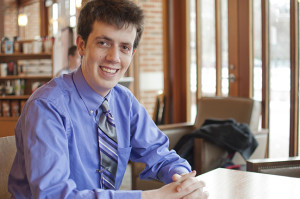 Mike McKenna, Executive Editor
Mike McKenna is a senior biology and psychology student currently serving as The Observer's Executive Editor, after spending last year in the Director...