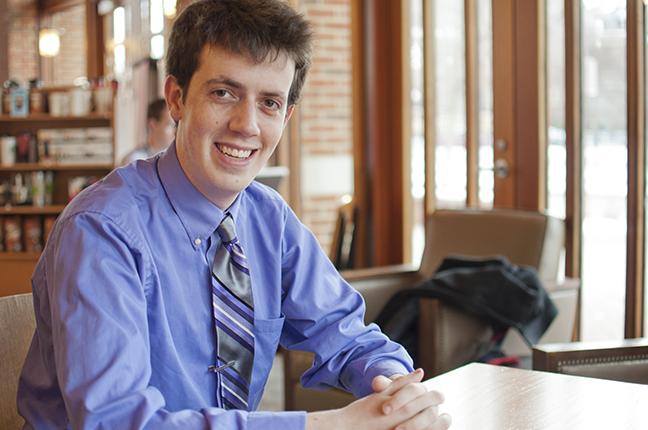 Mike McKenna is a senior biology and psychology student currently serving as
The Observer's
 Executive Editor, after spending last year in the Director of Print position.
Mike served his sophomore year and the end of his freshman year as the News Editor. Prior to bringing campus happenings to the CWRU community, Mike held a myriad of positions, including Asst. News Editor, Sports Layout Editor, and Research and Innovations Reporter.
In addition to his newspaper duties, Mike is an active member of the CWRU Labre Homeless Outreach Ministry Program and the Newman Catholic Campus Student Association.
A sports fanatic, Mike is, albeit somewhat unfortunately, a huge Chicago Cubs fan, and despite hailing from the suburbs of Chicago, an avid Packer-backer. You can reach Mike at
michael.mckenna@case.edu
.
Mike McKenna, Executive Editor
Jan 22, 2016

McKenna: Students were not truly heard during tobacco-free policy debate

(Story)

Jan 15, 2016

Editor's Note: Tamir Rice case highlights why all elections, even primaries, matter

(Story)

Sep 25, 2015

Engineering, business jobs dominate career fair offerings

(Story)

Sep 11, 2015

Graduate student attacked by CWRU security officer

(Story)

Aug 28, 2015

Research report: Aug. 28, 2015

(Story)

Aug 21, 2015

Disgraced law school dean will not return to campus

(Story)

Apr 24, 2015

USG representatives call for termination of disgraced former dean

(Story)

Apr 17, 2015

Lessons from behind the desk

(Story)

Apr 03, 2015

The view from the other bar

(Story)

Apr 03, 2015

Submit tributes in memory of Antonio Candau, former Spanish professor

(Story)

Apr 02, 2015

Chutney Rolls shutters doors due to lack of foot traffic, catering orders

(Story)

Mar 27, 2015
Feb 27, 2015

CWRU faces gender discrimination lawsuit

(Story)

Feb 05, 2015

A land purchase CWRU would like to forget

(Story)

Jan 23, 2015
Dec 05, 2014

Student affairs to launch new bias reporting system

(Story)

Nov 21, 2014

CWRU startup Everykey still needs to raise $20,000 to reach its ambitious Kickstarter goal

(Story)

Sep 12, 2014

A tragedy the university missed

(Story)

Aug 26, 2014

Four students dead in plane crash

(Story)

Aug 19, 2014

Bon Appétit announces new university center will feature six dining options

(Story)

Apr 04, 2014

USG elections poll says majority of students support tobacco-free campus

(Story)

Apr 01, 2014

Student entrepreneurs on quest to recover lost high altitude research balloon from middle of Lake Erie

(Story)

Mar 04, 2014

Dean Mitchell steps down from School of Law position amid retaliation lawsuit

(Story)

Feb 28, 2014

Tuition increases to be announced at Provost forum

(Story)

Feb 21, 2014

Data, data, everywhere

(Story)

Feb 14, 2014

WRUW programmer resigns from radio station due to believed censorship

(Story)

Feb 09, 2014

United Airlines announces cuts to 60 percent of Cleveland departures

(Story)

Jan 16, 2014

President Snyder stands with AAU, speaks out against proposed academic boycott of Israel

(Story)

Jan 14, 2014

CWRU's Hudson Relays named in Campus Grotto's "Top 100 Greatest College Tradition" List

(Story)

Nov 24, 2013

CWRU philanthropist Peter B. Lewis dies at the age of 80

(Story)

Nov 22, 2013

Law school: Ku's attorneys respond to Mitchell's motion

(Story)

Nov 15, 2013

Mitchell's attorneys request striking of 'scandalous' material from Ku's retaliation suit

(Story)

Nov 08, 2013

Law School Dean to Take Temporary Leave

(Story)

Nov 04, 2013

CWRU professor sues law school dean, university

(Story)

Sep 27, 2013

A Quiet Remembrance

(Story)

Sep 13, 2013

More apartment style housing planned for Northside

(Story)

Sep 06, 2013

Blackstone Startup Weekend offers prospective entrepreneurs real world business advice

(Story)

Aug 30, 2013

Professor named chief economist for US department of commerce

(Story)

Aug 30, 2013

CWRU finishes fourth in top college ranking

(Story)

Aug 30, 2013

Outside The Circle: 8/30

(Story)

Aug 23, 2013

Founder of environmentally-conscious company named Inamori Ethics Prize winner

(Story)

Aug 23, 2013

Outside the Circle

(Story)

Aug 23, 2013

Fundraising campaign breaks university single day donation record

(Story)

Apr 28, 2013

Springfest, headlined by pop-rock band The Maine, draws crowds to NRV field

(Story)

Apr 26, 2013

Peter B. Lewis Shooting, 10 years later

(Story)

Apr 19, 2013

Too close for comfort: library staff member misses Boston blast by minutes

(Story)

Mar 22, 2013

2011 Inamori Prize recipient, human rights activist jailed in Zimbabwe

(Story)

Feb 28, 2013

Campus experts debate gun control, concealed carry

(Story)

Feb 25, 2013

Opportunities available for student input in open forum strategic planning meetings

(Story)

Feb 15, 2013

Pinching Pennies: CWRU libraries ranked among worst funded in nation

(Story)

Feb 15, 2013

Limited space could hamper future collection expansion

(Story)

Feb 01, 2013

Cleveland author to present "The Baltimore Plot"

(Story)

Jan 27, 2013

A conversation with Angela Lowery

(Story)

Jan 18, 2013

Beloved member of freshman class, Ally Piepho, passes away

(Story)

Dec 10, 2012

Gift exchange spreads merriment on and off campus

(Story)

Nov 16, 2012

Spotlight on research: physics professor and graduate student seek to usher in new era of data storage

(Story)

Nov 09, 2012

Star from "The Big Bang Theory" speaks to CWRU students on her Jewish faith, acting career

(Story)

Nov 03, 2012

Campus political groups square off in round table debate

(Story)

Nov 02, 2012

Republicans versus Democrats in

The Observer

debate

(Story)

Oct 12, 2012

CWRU researchers look to make sustainability sustainable

(Story)

Oct 05, 2012

Obama's religious advisor speaks to CWRU students

(Story)

Sep 27, 2012

Tonight's Blue Block Party celebrates Uptown grand opening

(Story)