Farmers' market offers fresh produce, cooking classes
As he stretched a white lump of mozzarella cheese, whey dripped from the hands of Kevin Scheuring, the vice president of East Cleveland's Coit Road Farmers' Market. Scheuring successfully instructed Coit Road's cheesemaking class in the place of its slated instructor, Lake Erie Creamery's Mariann Janosko, with just one night's worth of preparation.
Scheuring, who has been manager for 15 years, said he passed the building every day on his way to work, but always assumed it was closed. After learning that the non-profit East Cleveland Farmers' Market Preservation Society (ECFM) bought the market to help farmers avoid the financial burdens of selling produce, he became involved as a customer. Scheuring eventually became a volunteer, and is now the market's vice president.
"When people come [to Coit Road] for the first time, they look around and don't see guys standing on the corner—all the stuff they expect," Scheuring said. "It's a little oasis in the city, and it's easy to get to."
According to ECFM President Joe Jerdonek, Coit Road started hosting cooking classes as a way to increase traffic during its off-peak months.
Scheuring learned the relatively simple craft of preparing mozzarella cheese the night before he taught the class because Janosko was unable to attend the event. Mozzarella only requires four ingredients: whole milk, salt, citric acid and rennet, an enzyme used to separate solid curds from the liquid whey. The process involves several steps of curdling, sifting, stretching and a great deal of temperature manipulating. Eventually, the curd displays the distinctive shine that mozzarella cheese is known for.
Cheese making is a zero-waste process, according to Scheuring, because the leftover whey can be used to make ricotta cheese. The process's sustainability aligns with the mission of the ECFM.
The Coit Road Farmers' Market has a significant impact on a community where access to healthy food can be scarce. The market, like all farmers' markets in the state, has a food stamps token program. According to Jerdonek, if someone has 10 dollars on an electronic benefit transfer (EBT) card, which is used to issue benefits of welfare programs, they are given another 10 dollars to spend on produce.
Ginger Needham of Needham Gardens, who distributes to the market, said that many of her customers are food stamp recipients using the token system. Jardonek added that produce at the market is also less expensive than commonly assumed; Needham Gardens sells organic swiss chard for two dollars a bunch, a price lower than the USDA supermarket average price of $2.41.
"[Coit Road]'s got a neat feel," Needham said. "There's a community-ness about it; people come in and socialize here, too."
Indeed, its "community-ness" is a feature Needham believes is unique to the market, and she strongly values the interactions between customers.
"A lot of [customers] will ask, 'How do you cook this? What do you do with that?' It's a learning experience for a lot of folks," she said. "They also like talking to the farmer who actually grew the produce."
Jerdonek, who also teaches a cooking workshop at the Stephanie Tubbs Jones Medical Center in East Cleveland, said Coit Road is building a commercial kitchen in a small facility next to the farmers' market. The kitchen is equipped with industrial-size refrigerators, freezers and produce cutters, and will be available to community members and vendors for use.
"It's meant to be a startup kitchen for people who want to start a business," Jerdonek said. "It will enable us to do more prepared food here, [and will enable] farmers to slice up produce and then package it and sell it."
The Coit Road Farmers' Market is open on Saturdays from 8 a.m. until 1 p.m., and their next workshop is all-natural egg dying on March 24. The market also hosts monthly medical checkups provided by community health workers.
"The way I look at it is, if you want to help the underdog, this is how you do it. Help people who don't have as much," Scheuring said. "People in East Cleveland have been dealt a bad deck. I grew up with all the opportunities and resources that people here don't have."
Scheuring encourages individuals to volunteer and contact him for more information.
About the Writer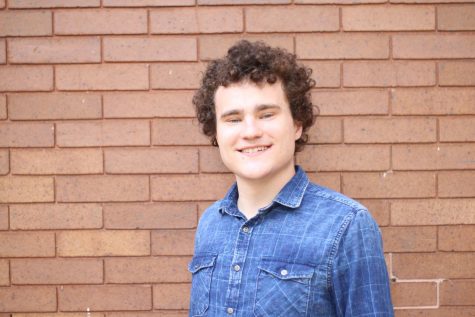 Matt Hooke, Executive Editor
Matt Hooke, The Observer's executive editor, is a fourth-year student studying English. This is his first year as executive editor after spending time...