Student studies genetic causes of colon cancer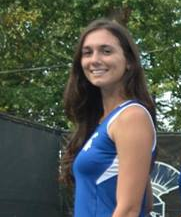 As someone who has never particularly enjoyed laboratory courses, fourth-year student Erina Quinn was not expecting to enjoy spending additional hours in a laboratory setting during her free time.
However when Quinn joined a laboratory the summer after her first year at Case Western Reserve University, she was happy to gain more exposure to her interest in biochemistry.
"CWRU is such a research-focused school," said Quinn. "When I was given the opportunity to research, I thought it was a good way to learn more about how the lab works, to see how it was and see if I liked it."
Currently Quinn is investigating the genetic causes of colon cancer, specifically oxygen-linked (o-linked) glycosylation pathways. O-linked glycosylation pathways are processes where a sugar molecule attaches to an oxygen atom in an amino acid. She is under the advisement of Kishore Guda, assistant professor of General Medical Sciences (Oncology), in the Markowitz Colon Cancer Laboratory.
The Markowitz Laboratory has a mission to better understand the genetic causes of colon cancer, which would then enable better detection, treatment and health outcomes.
"What I've specifically been working on is a project with … certain genes that have been found to have mutations in some colon cancer patients," said Quinn.
Mutations in these genes, which disrupt oxygen-linked glycosylation pathways in the body have shown to be related to the development of colon cancer. Understanding the molecular basis for cancer, according to Quinn, is essential to better understanding the causes of cancer.
"In reality [we're] not even looking at a cure," said Quinn. "We're just looking at what's causing [colon cancer], because there're so many reasons."
Since she joined the laboratory, Quinn has experienced a shift to more independently guided research.
"Since I've been [involved] for a while, they want to give me my own project [and] they want me to work independently," said Quinn.
Quinn's project this past summer, which was funded by SOURCE, involved cloning three specific DNA mutations.
"DNA cloning takes a long time. You have a lot of things to do [and] it doesn't always work," said Quinn. "You have to keep redoing it to find out what's going wrong."
Once Quinn receives mutant DNA from a supplier, she amplifies it through a polymerase chain reaction and uses transformation to see if bacteria will ultimately express the mutations encoded in the DNA, which would then undergo further analysis.
"I just want to see what I can contribute to the colon cancer community through research," said Quinn. "It's one of the most prevalent cancers."
Quinn hopes to continue her involvement with the Markowitz Laboratory after she graduates in the spring.
"I would like to see good results," said Quinn. "Since I've been working on this project for a while, I may be … a coauthor in the paper."
Quinn also played on the tennis team for three years and was in a band for two years, volunteers at Rainbow Babies, is on the executive board for the International Multicultural Exchange and tutors for pre-med Spanish courses. Her degree will be in biochemistry and Spanish.
After a gap year, Quinn hopes to attend medical school and perhaps pursue a career as a physician-scientist, which would strengthen her ties to research.
Quinn feels that involvement with research has made her more independent, in addition to honing her ability to think scientifically.
"I feel like I'm always learning in the lab," said Quinn. "You think you understand something, but every time you go back and do it again, you learn a little more about it."
Leave a Comment