Respecting each other this Halloween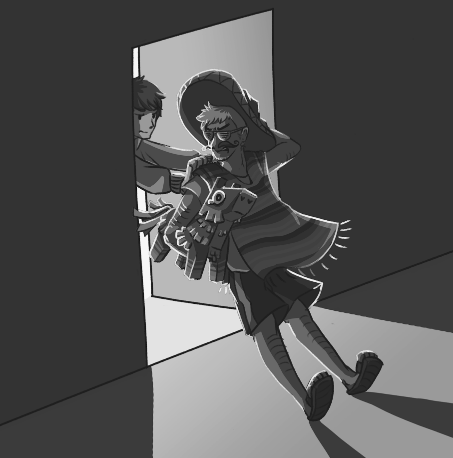 College campuses have found themselves in a state of hypervisibility lately, mostly due to what some consider to be "political correctness." Everything that happens on campus is watched, carefully, with critics eager to find any possible example to convince themselves that free speech is being whisked away.
Even more special attention is dedicated to higher education as Oct. 31 approaches.
Halloween presents these colleges with a challenge: managing students whose actions can offend people and cause division. Racially offensive college parties happen too frequently across the country, and they can leave lasting damage. These instances are only a Google search away, and prospective students may gain wind of the actions of such students.
Last semester, the fraternity Phi Delta Theta found themselves in trouble after their skit in the Greek Week Variety Show. During their performance, the brothers dressed up in Mexican sarapes and sombreros and made reference to Donald Trump's divisive idea to build a wall along the Mexican border.
The skit sparked conversation across campus about racism, entertainment and freedom of speech. Some students found the performance to be racist and distasteful, while others just believed it to be humorous. In the midst of the controversy, the members of Phi Delt and members of La Alianza, a Latinx organization on campus, met to discuss the skit and promote discussions of diversity and inclusion.
Colleges try tirelessly not to be in these headlines. The University of Wisconsin-LaCrosse hosted sessions on avoiding offensive costumes. Ohio University hosts Students Teaching About Racism in Society, who started the "We're a Culture, Not a Costume" campaign directed at reducing offensive expression on Halloween.
In their efforts to avoid these incidents, colleges have found themselves ridiculed for what some consider to be coddling students.
The University of Florida received backlash on social media for reiterating via a blog post that their campus resources for counseling are available 24/7 for all students, including those who may be offended or troubled on Halloween.
"Some Halloween costumes reinforce stereotypes of particular races, genders, cultures or religions. Regardless of intent, these costumes can perpetuate negative stereotypes, causing harm and offense to groups of people," the blog post read.
Also addressing any impending Halloween controversy, Tufts University's Dean of Student Affairs, Mary Patricia McMahon, has promised that any instances of discriminatory or threatening actions, as well as offensive actions, will be investigated by the University police and could result in severe punishment through Judicial Affairs.
The prospect of being punished by any type of law enforcement for wearing a costume could be a potentially dangerous idea, even if the costume is considered racist. While Tufts University is trying to fight against racism, we should not want such restrictions to come to any college campus. This creates a precedent where universities must regulate student speech and expression, and it will not be limited to Halloween.
However, disagreement with Tuft University's policy does not mean encouragement of culturally insensitive costumes. The backlash should not come from a ruling entity, but it should come from us as a student body. We should treat one another with respect, not behave in ways that mock or belittle one another. Respect shouldn't have to mandated by law or the threat of prosecution, but it should come from us as students.
The idea that racial sensitivity is just simply too much for us to handle, or it is too much of an inconvenience to the community is ridiculous. We are a vibrant community of intelligent students, with some of the hardest workers in academia. It should not be a challenge for us to find one of the millions of costumes that does not insult someone's race or religion.
Before condemning people for being "too sensitive," attempt to listen and empathize with others. Don't respond with name-calling, but seek to understand why somebody feels the way they do. If you're dressing up as a Native American or a Mexican person, or any other race, you're putting on someone's cultural identity as a costume. They don't take the identity off at the end of the night.  
If your costume is found by your peers to be racially offensive, you should not be banned from wearing it. You should not be arrested. You should not be attacked. You should not have to worry about someone taking legal action against you. These are your decisions as a student to make, and they reflect who you are as a person.
The argument shouldn't be whether you are allowed to dress in offensive costumes or not, rather it is a question of: do you really want to? Do you want to carry all of the negative feelings and vibes associated with racially insensitive costumes?
By addressing their mistakes, Phi Delt became better as a fraternity. When you dress up this Halloween, think of what you are representing. The push against the costumes should not be to take rights away, but it should be about addressing the ignorance behind them.
Leave a Comment