Inside the lives of two student entrepreneurs
Imagine starting a company: A college entrepreneur may spend much of their time attracting investors, hiring employees and even optimizing their own social media posts. An ordinary student at Case Western Reserve University would find their world completely changed.
That's the reality for second-year Matt Campagna and third-year Xyla Foxlin, with one important difference: Their lives changed before they came up with an invention. That change inspired them.
The summer after her first year, Foxlin was apart from her boyfriend, whom she had begun dating earlier that year. Along with co-founder Harshita Gupta, the mechanical and aerospace engineering major came up with the idea for Parihug, a teddy bear that vibrates and allows one to feel another's heartbeat no matter their distance through the internet.
In high school, Campagna's friend received a concussion during an ice hockey game but didn't get care immediately because no one realized that he had received a concussion. He pointed out that concussions take time to be diagnosed and can go unnoticed. Working with two other friends who now go to Pennsylvania State University and Cornell University the summer before joining CWRU, the computer science major came up with the product developed by Reflexion Interactive Technologies, a touch screen that contains a battery of cognitive tests that can quickly be administered to an athlete.
Early this past March, Foxlin won second place and Campagna third place in the national South by Southwest Competition in Austin, Texas. They beat out over a 100 other competitors to make to the national competition.
"I was pretty sure we would make it at least to the top 64…" she said. "Top 32 was also not unexpected, but then after that it was a pleasant surprise, followed by a pleasant surprise and I definitely wasn't expecting to place after."
Foxlin built her first prototype of Parihug for a hackathon in Michigan. At the time it was a small side project, so she was surprised by the reception to it and when she was contacted by CWRU LaunchNet.
Both discussed the challenges they faced obtaining their initial funding. Campagna faced an uphill battle for funding; the research and prototype building for the device would not come cheap. He and his friends had begun building the device by scraping money together, but that would soon change. Over his first-year Campagna was able to raise over $200,000.
The work affects all spheres of their lives, including academics. Last semester, Foxlin found out she was going to be on academic probation, just as she was applying for an engineering co-op, which she ended up being accepted into.  Earlier she failed a class after a professor wouldn't excuse an exam over her visit to the White House.
Both Foxlin and Campagna spoke about the challenges of missing class when having to travel and attend meetings. Unlike exceptions made for athletes, both found that faculty won't accommodate them for working on their start-ups. Exams cannot be made up.
"There are definitely times where I've had to go somewhere and you miss class, but you talk to the professor beforehand, you figure out what you have to learn," said Campagna.
Parihug recently successfully completed a kickstarter campaign, raising over $30,000 that would fund a batch of Parihugs for some of the donors. Reflexion Interactive Technologies is conducting clinical research that is planned to continue through 2019.
Leave a Comment
About the Writer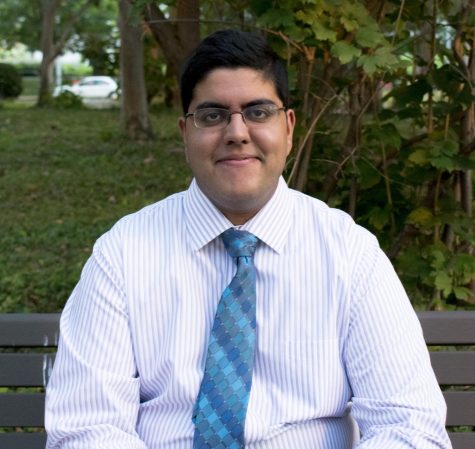 Kushagra Gupta, Director of Print
Kushagra Gupta is a cognitive science and biology student and is working towards a masters in medical physiology. He's served as The Observer's The Director...