Intel CEO puts hiring diversity in focus
Brian Krzanich looks to reach full inclusion by 2020
The International Consumer Electronics Show is an annual event which always gets people talking. But today the buzz was about more than the latest electronic innovation or product release. As a part of Intel's keynote address on Tuesday, January 6, CEO Brian Krzanich closed with a call to action for Intel to increase the hiring of women and underrepresented minorities within their company. With a $300 million investment, the company will be looking to reach full inclusion by 2020 and have full transparency in their hiring practice and linking their performance to pay.
As a leader in an industry that has recently faced a great deal of scrutiny based on this very issue, Krzanich's statement was not only a call to action for the company, but also an effort to lead the industry in this regard as well. He reiterated this during a panel on diversity and inclusion titled Advancing Diversity in Technology where he was joined by the CEO of Funomena, Robin Hunicke, the CEO of CODE2040, Laura Weidman Powers, and the CEO of Starfish Media Group, Soledad O'Brien to discuss this key issue.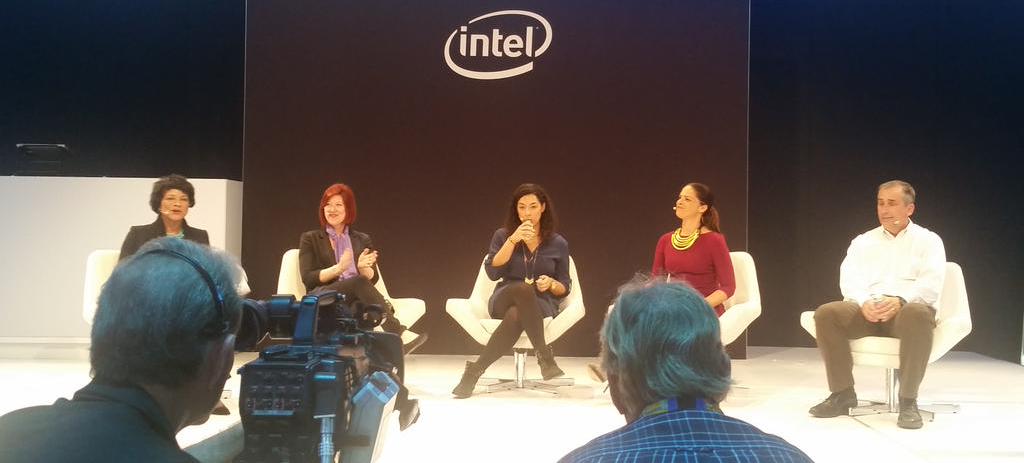 The panel was moderated by Intel's own Roz Hudnell who called Krzanich an engineer with a soul as she introduced him and this initiative to the group gathered at Intel's booth. In a discussion which covered a variety of topics related to the challenges and advantages of achieving diversity in technology, the group remained focused on the idea that diversity is just a good business decision.
O'Brien, who has worked as a documentarian on issues of race in America, stated her frustration with the belief that equality in hiring should happen on the basis that it's the right thing to do. "In my experience," O'Brien said, "things that are done because they're the right thing to do are always the first to go." Instead, she and the rest of the panel agreed that forward-thinking business leaders should realize that diversity just makes sense.
CODE2040 draws the inspiration for their name with the fact that by 2040, the minority races in America will become the majority. Powers reiterated this fact and made it clear that if we don't include women and persons of every race in our businesses, we will very soon find that we've run out of human capital. By closing the industry to a close network of similar individuals, we doom it to stagnant thinking and failure once they realize that they no longer produce a product which makes sense for the majority of consumers.
Hunicke had a particular interest in this issue as a former game developer and current CEO of a gaming company. She herself experienced the problems companies face when it comes to hiring and spoke to those at the panel. When a gaming company is developing their new product, they just want it done and don't want to think about creative solutions or ways to refocus. They also create teams which perpetuate certain expectations on what is a 'good fit' for the organization. However, like Hunicke explained, a good fit may not always be someone similar to the rest of the team. "To be a fit, in addition to qualification, we need to think about cultural experiences and tastes and make sure that those are brining something new to the table."
This is a movement that needs to happen. Krzanich hopes to lead the way with this investment. We will see the results as the next years unfold and hopefully see some progress in the industry as this perspective gains traction.