"Jamtronic" band Lotus to perform at House of Blues Sunday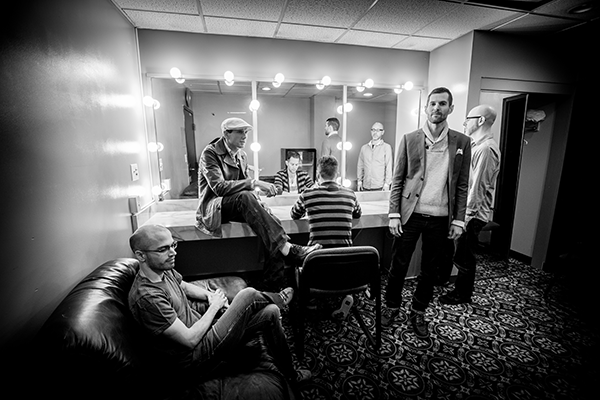 Lotus formed in 1999, and has a sound that is hard to pin down to a single word, but "jamtronica" comes close.
As described by Luke Miller, Lotus' guitar, piano, and organ player, Lotus has been labelled as "dance-rock, live-electronica, and jamband." The band brings in all different themes and influences into their music.
"We try to make music that moves your body, engages your brain, and inspires beauty," he said.
Somehow they seem to pull that off very well.
Lotus' live shows are two and a half hours of dance music, mixed with post-rock sound, atmospheric drum and bass, and some hip-hop and jazz thrown in too.
Lotus makes it a goal for the crowd to be full of good vibes and to provide an environment where dancing and smiling is the norm.
"It's a dance party with live instruments," Miller said when asked about why the college crowd should come out for his show. "College age students are testing boundaries, defining their personal narratives, and getting educated. Lotus is a band that likes to live in undefined areas beyond simple categorization. We mix composition with improvisation in our own unique way."
Lotus celebrated the 10th anniversary of their first studio album in 2014. The album, "Nomad," was rereleased, truly reaffirming the hard work the band has put in this last decade.
Miller describes the journey as "a lot of fun and a lot of hard work."
"We've traveled extensively across the U.S. and across the world," Miller said. "We've been trying to continually grow and evolve musically. Re-releasing Nomad for the 10th anniversary has been validating because people still connect to those songs even after a decade."
Lotus is currently on tour for their album "Gilded Age," and is performing in The House of Blues on March 8, along with their opener, Broccoli Samurai.
Hopefully Clevelanders by now have forgiven him for calling out the wrong city in a past performance
"We played in Cleveland during a fairly large blizzard. I think Cleveland was the only place I've ever screwed up and pulled a Spinal Tap moment of saying the wrong city," Miller said. "I think I said 'Hello Columbus.' Ohio has so many cities that start with 'C.'"
"Gilded Age," the rereleased album's name, references Mark Twain's term which described the Reconstruction Era's disguising much of the social struggles of the time. Lotus sees nostalgia as another sort of gilding, masking memory. Lotus explores different aspects of nostalgia and how that can be perceived positively and with heightened melancholy.
After their "Gilded Age" Tour, Lotus will be putting some finishing touches on another album, and will be travelling to Japan, after which Lotus will be appearing at America music festivals.
On the opener:
Broccoli Samurai, a Cleveland based jamband, opens for "Lotus" on March 8 at the House of Blues. The first thing you may notice about "Broccoli Samurai," is the unique name.
"Chris Walker (drummer) and myself have been friends for a long time. Years ago, we were watching SNL, the old skit with Dana Carvey, 'Choppin Broccoli'. We turned everything into 'Choppin Broccoli'. We are actually celebrating our five year anniversary since our first show on Feb. 26 this month," keyboardist Ryan Hodson explained. "We were offered a gig to go and open in the Beachland Tavern, and we were asked for our band name, and we wanted something to do with Choppin Brocolli, and so we thought, well, what about Broccoli Samurai. When we heard it the lightbulb went off and we knew that was it."
"Broccoli Samurai," Hodson defines, is a new style of music called jamtronica, which takes some of the jam from old 60s bands up into jazz. The band also delves into new age electronica with a lot of synthesizers. It's a mix of elements of funk, electronica, and rock. "Broccoli Samurai" draws influence from bands like "The New Deal," "Jurassic 5," and "Disco Biscuits."
Live shows, says Hodson, tend to vary regionally.
"It's really interesting to go to different places and different cities and play in bars," Hodson said. "We play a few bars here and there, which are usually the favorite since they tend to have the best sound systems. Each show has its own bit of fun element to it. We change our set a lot, we play different songs with improv and jam. We don't play the same songs the next night. You know, it ends up being a different rendition. We try not to play it the same way twice."
Over the past five years, "Broccoli Samurai" has grown significantly.
"Our biggest fans were the police, you know, they always showed up at our practices," reminisced Hodson.
The band has gone from "playing with just some friends coming out for shows, to all of the sudden seeing faces never seen before, and now running a business.
"Broccoli Samurai" is in the process of recording their second album now, with a sting of new guests appearing in the album.
"The recording, and getting on the road is a great experience and we continue to learn every day," Hodson said. "When we first started, you know, I don't think we had any songs our first show."
Getting to play at The House of Blues and appearing on iTunes, Amazon music, Spotify, and now Pandora, are big accomplishments.
Since "Broccoli Samurai" is a Cleveland based band, getting to perform at home is especially great, with the band members looking forward to family and friends attending their shows.
"We try to make Broccoli Samurai have a community feeling. Come dance, leave happy," Hodson said. "And that's kind of what the show is about. We want to put smiles out there and have a good time. Doing a show here in Cleveland at The House of Blues is going to be a part of our bucket list and we're really excited to do this one."
Broccoli Samurai's current album is called "You Had To Be There."