Kim: Lessons from performance poetry
It's Thursday night. A group of forty or so sits in the crooked rows by the stage at Euclid Tavern, with more people milling about and eavesdropping. Among the crowd is the creative writing club of Case Western Reserve University, Writers Writing Words. Its members lounge near the back and make small talk with a group from Kent State University. Minutes later, the emcee hops up on stage, tosses out a few Black History Month facts and calls the first competitor up. The poetry slam has begun.
Talking with the average college student, poetry as a method of communication seems to be dying in popularity, especially with the rise of social media. However, it manages to remain alive and healthy, if the crowd at the biweekly slams and open mics held at the Euclid Tavern are any indication. Snapchat has its virtues, but poetry, especially spoken poetry, holds emotion and power of its own.
To explain, it may be useful to define what poetry is not. Poetry is not a stuffy, snobby packet of words meant to show the poet's superiority over the rest of the human race. Poetry is not the lines you had to analyze in high school to pass your English class. (Well, it is, but that's not all poetry is.)
Instead, poetry is a method of communication. It's not meant to be obscure. Poetry can be about universal issues like love or about topical issues, like the cheating bastard of a boyfriend that you caught. Poetry can talk about the hard topics—racism, abuse, and so on—while disguising them in a flowing cloak of words, or dropping curses as necessary to get the words out. It expresses both emotion and opinion, and listening to poetry allows you to hear the voices that you wouldn't have otherwise. Going to a poetry slam is a lesson in empathy and in culture.
Performing onstage is a different sort of experience. It's simple to sign up—one member of Writers Writing Words wrote a poem during the poetry slam and read it out loud during the open mic section. Poetry nights at the Euclid Tavern are casual and interactive; the audience isn't stale. They're encouraged to participate, and participate loudly—the emcee eggs them on to hoot, whistle, clap and snap for the poet. (The reason that people snap during a performance is to not interrupt it, by the way. Once the poem is done, they are encouraged to clap as loud as possible to show their approval. It's very practical.)
The interaction feeds both the poet and the crowd, increasing the connection between them and strengthening the message of the poem. The audience is forgiving of mistakes, and the open environment encourages new voices to speak up.
Sometimes, it's too easy to overlook the importance of humanities in a STEM-oriented school, but we need to remember that we're all human. Through poetry performances, we learn empathy and the needs of people. We use imagination and language to come up with new ideas and communicate them, whether you work in biology or in history. And if you don't agree, you can always experience it yourself: The Genital Monologues will be hosted by the Feminist Collective on Feb. 23, and the Grand Slam finals for The People Cleveland's Poetry Slam is on Feb. 22.
Won Hee Kim is a second-year English major and economics minor. She performed her first spoken word piece last Thursday.
About the Writer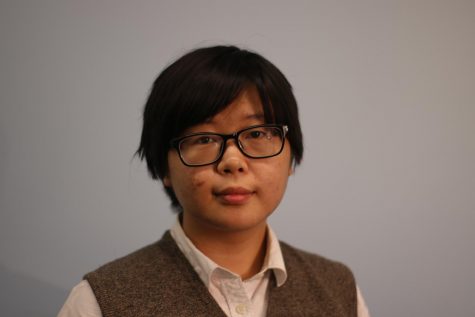 Won Hee Kim, Director of Print
Won Hee Kim is a human being who is eager to escape from a fourth-year of higher education into a cold, corporate world. Case Western Reserve University...