Comedy with a chance of snow
It seemed as if Mother Nature knew there was going to be an improv show Saturday because she was practicing all day. First came sunshine, then wind, then thunder, then finally snow; it seemed as if she was making up the weather on the spot.
Crazy weather certainly did not stop hundreds of Case Western Reserve University students from attending the Fifth Annual Lake Effect Improv Comedy Festival on April 2 in the Tinkham Veale University Center Ballroom. The large ballroom was about two-thirds full when the show began and just about every seat was filled by the time the last group, CWRU's own IMPROVment, performed.
Second-year student Max Freiman, a performer in the first group, Kid Business from Oberlin College, said that it was a "great crowd" because they were "laughing at everything." The number of attendees was pretty big for an improv show, he thought, better than the normal crowds at Oberlin.
Kid Business, a short-form improv troupe, played four games in their set: TV Channels, Random Death, Panel of Experts and Sex with Me. Though they started off a bit rocky, trying to engage a crowd still settling in, they finished strong, as Sex with Me brought out the loudest laughs of the set.
Following Kid Business was Torque Improv, a professional group that is part of the Comedy Project Alliance based out of Cleveland. They performed long-form improv, different than both CWRU's IMPROVment and Kid Business, which involved series of improvised scenes that were completely different as they continued. As a scene was winding down, a member of the troupe not in the current scene would clap their hands and say "Show me …" and the scene would change to reflect what that member said.
Torque would always mention potatoes in their sketches, an audience suggestion, and fourth-year student Brandon Carreno particularly enjoyed the specificity of their allusions. The troupe would remember parts of scenes from 10 minutes before and include them in the new scenes. The callback increased the comedy of their closing because it managed to tie all the previous unrelated scenes together.
Following a 10-minute intermission with pizza and appetizers, Bowling Green State University's Plastic Shatners performed. Another short-form troupe, they performed three games, Space Jump, Switcheroo and Storybook Theater. They were a large troupe, and the limited number of games they played didn't give each member enough time on stage.
First-year student Kevin Yang said that the Plastic Shatners' Switcheroo was the best game of the evening. The scene involved two performers acting out a sketch in barbershop and another performer could say "switcheroo" and the two had to switch roles. Yang liked how the performers were "fluid in transitions" and "possessed great synergy."
The penultimate group was Ohio State University's Fishbowl Improv, another long-form troupe. Their comedy did not seem to resonate with the audience, as their scenes did not flow very well and instead became confusing.
Humza Bashir, a third-year student at OSU and member of Fishbowl, said that the troupe uses a beginning scene, called Invocation, to set the rest of their performance. Emotions, he said, are a big part of the invocation, and the troupe has to translate those emotions to formulate scenes.
CWRU's IMPROVment was the last troupe to improvise, performing four games: Splitscene, Hoedown, Greatest Hits and PSA. They were the only troupe to fully utilize the onstage keyboard in their scenes, using it for both Hoedown and Greatest Hits.
The crowd's laughter hit its peak during the final part of the evening when third-year student Brad Odhner, working as emcee, invited all the troupes on stage for a collaborative game of Freeze. It was fun to see the different styles of each of the troupe's members mesh on stage, especially during a physical comedy bit involving two chairs.
Putting on the show required quite a lot of work according to Odhner, a senior member in IMPROVment. In the fall, IMPROVment contacted troupes at colleges across Ohio sending out invites. The key for a festival like this one, according to Odhner, is to "contact early and often," as well as having "detailed communication," because troupes' schedules are sometimes in flux. It also helps to be flexible, as two troupes dropped out at the last minute due to conflicts.
Carreno, a self-proclaimed fan of improv, said it was "neat to see improv that isn't IMPROVment," especially the long-form troupes. Laughter permeated the ballroom throughout the night, so much that the crowd may have just forgotten about the snow outside.
About the Contributor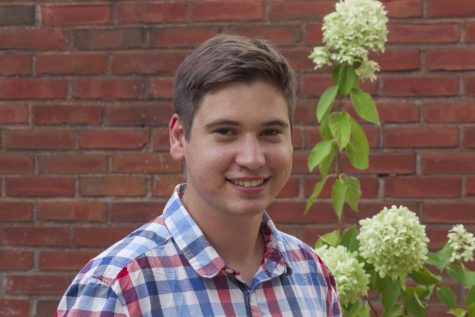 Eddie Kerekes, Executive Editor
Eddie Kerekes is in his fourth year studying chemical engineering while also pursuing a minor in German. He serves as the executive editor. Previous roles...