Mindy Kaling on life and Hollywood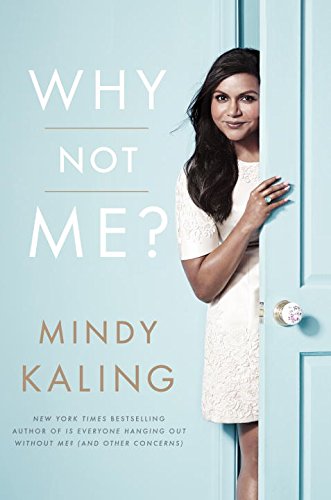 Mindy Kaling, star and creator of "The Mindy Project," writes about her life since her new show and her first book in "Why Not Me?" In her first book, "Is Everyone Hanging Out without Me? (And Other Concerns)," Kaling addressed her rise to fame and gave a narrative format to everything from childhood stories to stories about being a writer and actress on "The Office."
In her new book, Kaling offers multiple short essays about dating, her interests and working on her show. Although not as gripping as her first book, the essays in "Why Not Me?" are still revealing and entertaining.
From addressing the media's obsession with Kaling's size and her courageousness in Hollywood as a woman of color to writing about her frustration with dating in detail, Kaling is open about her life and opinions in this book. Her writing is up front and full of jokes, but is also serious when she writes about issues like feminism or her relationship with B. J. Novak, former "The Office" star and long-time rumored boyfriend.
Highlights from the book include Kaling's bluntness about Hollywood and her experience with a sorority in college. She admits that her fame has allowed her to have more exposure to fashion and photo shoots, which have created unrealistic images of her. To elaborate on this point, she includes both pictures from a Vogue shoot and a screenshot of Gollum from "The Lord of the Rings." It is also refreshing to read her take on sorority life as she spends a chapter describing her brief involvement with a sorority at Dartmouth College, where she didn't fit the expectations of what a member should be.
In the best sections of the book, Kaling tells a story or gives advice; unfortunately this is not the entire book. This time around, she uses many pictures to elaborate her points. One chapter is devoted to her daily schedule and is a series of photos with a short paragraph description about this part of her day. Another section of the book is set up as a series of emails that Kaling imagines she would have if she was not in Hollywood, but instead was a Latin teacher. Although filled with humor and wit, this section is bland and seems to be included just to fill a page limit.
Her insights into hard work and making your dreams happen are inspirational to anyone who is trying to make it in the entertainment business, their careers or through any hard time in their lives. "Listen to no one except the two smartest and kindest adults you know, and that doesn't always mean your parents" is advice Kaling offers about how to gain confidence and be successful. These sections make up for the slower ones in the book and make it a good read.
"Why Not Me?" is funny, an easy read and will be interesting for anyone who enjoys Kaling's show or even her twitter feed. However it only covers the few years since her first book, and therefore feels lacking in content. Despite this, it is still engaging to read about her relationship with her cast and crew, as well as her thoughts on Hollywood and how to succeed in the entertainment business and life in general.
Book: "Why Not Me?"
Author: Mindy Kaling
Release Date: Sept. 15, 2015
Rating: ★★★½☆