More apartment style housing planned for Northside
Targeted to be finished in fall of 2015, will house approximately 300 upperclassmen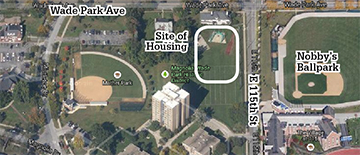 Despite their large class sizes, current freshman and sophomores who want to live in university owned housing as upperclassmen should have an easier time finding shelter soon. According to Interim Director of Campus Living Loretta Sexton, the university plans on building apartment style housing that will have room for approximately 300 juniors and seniors in time for the 2015-2016 school year.
According to Sexton, the new structure will be situated in the space that is currently the throwing sports field behind Clarke Tower near the corner of E 115th and Wade Park Ave. The house that sits at the junction of those two streets is not owned by the university and thus its property will not be included in the new construction. The new apartments will sit just south of that land.
The new housing is still very much in the planning stages, Sexton said. There isn't a groundbreaking date yet, but the building should open in the fall of 2015. It will house single, two and four bedroom apartments.
The architect and specific projections are still yet to be determined.
Currently focus groups are being held with students about the design of the new structure. The meetings have primarily been concerned with figuring out how students use shared spaces. Many of the common spaces in the Village at 115 are open and often utilized by the entire community. Sexton says that those involved in the new housing project are examining how to balance having community interaction while still maintaining personal space for the residents.
Katie Kleinberg, president of the Residential Housing Association, says that discussion regarding building a new residence hall began after the large class size of the graduating year of 2016 was announced. 1350 students submitted deposits to attend the university that year, a considerable increase over the previous year. The class size of 2017 had a large size as well, though no exact figures were obtainable at press time.