Overcrowded Latinx music night spirals out of control
Unproven racism accusations made against a Jolly Scholar employee
A student defecated on the third floor of Thwing Center; one passed out on the second. Students vomited and lay unconscious in the basement. The student-run Case Western Reserve University Emergency Medical Service took three intoxicated underage students to the emergency room.
Last Saturday, Feb. 3, inside the Jolly Scholar, the semesterly event Noche Latina was going completely wrong after attendees—many underage—snuck in alcohol, overcrowded the bar and restaurant, piled onstage and began standing on furniture.
The event ended early when police arrived after a Jolly Scholar security employee began trying to regain control over the crowd. The employee, who also works for Case Western Reserve University but was "off-duty," yelled for individuals to get off the stage set-up and swore into a microphone. A student accused the employee of saying racial slurs to them when they interrupted him speaking. It is unclear if the student is a member of La Alianza, the organization that hosted the event.
As of press time, no evidence of the slur was made available to The Observer. The student, who was intoxicated, had emailed a letter to administration with the accusations.
According to an individual with second-hand knowledge, who wished not to be named, university leaders found the employee did not say any slurs.
"Due to the abnormally large amounts of individual security needs during the event, in a moment of stress and frustration, security used curse words to try and refocus the attendees to work with security and for that we apologize," said Matt Vann, owner of the Jolly Scholar. "Our intentions are always to keep students safe.…At this time my focus is on security procedures internally, individuals grabbing our bartenders and security, focused and direct attempts to hurt and slander our business and, most importantly, student safety."
"This event was unknowingly larger than it has ever been, and La Alianza, from our accounts and theirs, were a small fraction of the crowd," he continued. "It would be unfair to place any sort of collective blame on La Alianza as this is more attributable to poor individual decision-making by a lot of students, a lot of them not in La Alianza."
La Alianza was ready to respond to questions, but due to logistics could not as of press time.
According to Vann, nothing similar has occurred in the past three years that Noche Latina has been held. He stressed his priority towards student safety.
The event was scheduled to begin at 10 p.m. and end at 1 a.m., but it wasn't until around 11 p.m. that a large portion of the crowd arrived. A Jolly Scholar employee and police officer who monitored the entrance to the restaurant asked attendees to show their ID before entering, and those attendees were given a wrist band if they were of drinking age, or if they were too young, a mark was made on their hand. Around 11:15 p.m., the two went to Thwing's basement to help unconscious students.
"…Ultimately CWRU EMS was contacted and transported three individuals to University Hospitals Cleveland Medical Center," said Frank Demes, executive director for Public Safety. "The Division of Public Safety also was contacted, and additional officers responded to the scene."
When the Jolly Scholar employee came back upstairs, around 12:15 to 12:30 a.m., he found that a wave of students had entered, and were crowding the DJ on the stage, who asked for help.
"Later that evening, the crowd's size swelled considerably—approximately three times the size of prior years—and included large numbers of individuals not affiliated with the host organization," Demes said.
Guesses provided to The Observer for the number of students present have varied, but most say the restaurant appeared at double its capacity.
When the employee began telling people to get off the stage, La Alianza members got on the stage to speak with him. A heated discussion occurred away from the microphone, and at one point a student began trying to control the crowd by speaking into the microphone.
According to the individual with second-hand knowledge, it was during this exchange that a student accused the employee of racism. That accusation was then spread to other student organizations on campus and online.
The Jolly Scholar employee was asked to send out an apology. As of press time the apology had been drafted, but it was unclear if it was finalized and sent.
Generally, the first floor of the building is locked at night, but was not during Noche Latina because attendees left their coats and bags inside. At the end of the hallway, a classroom containing expensive computer equipment was locked. Demes said the building had been cleared out by 1:45 a.m.
Biohazard had been called to the building for an initial clean-up, but had to return Sunday. According to Arlet Wright, the director of Thwing Center, there were no lasting damages to the building. However, it required much cleaning due to vomiting.
To prevent a "recurrence," the university is examining the "reinforcement of procedures that public safety should follow in circumstances where individuals may be in danger and examination and strengthening of our efforts surrounding alcohol education among our student body."
According to the CWRU Police Blotter, two other alcohol-related ambulance responses occurred that night.
"EMTs first assess the scene, looking for clues to the amount of alcohol consumed, if drugs were used, or signs of other injuries," explained Paul Halliday, CWRU EMS chief. "Then comes ABCs: airway, breathing, circulation. This may involve clearing their airway with the help of a tube or suction or helping them breathe with oxygen.…Intoxication is a only a small fraction of the calls."
The university stated, "As problematic as several aspects of the incident were, we are profoundly grateful that no one in the building was seriously injured, and that our student EMS team responded in such a prompt and professional manner."
The Undergraduate Diversity Collaborative had no comment.
Eddie Kerekes, Director of Web and Multimedia, contributed reporting.
Leave a Comment
About the Writer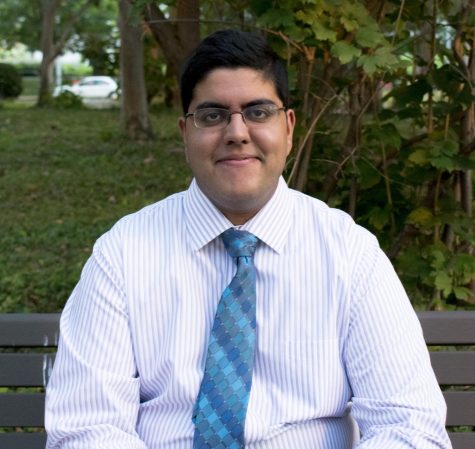 Kushagra Gupta, Director of Print
Kushagra Gupta is a cognitive science and biology student and is working towards a masters in medical physiology. He's served as The Observer's The Director...