Behind the petition for change to the sexual misconduct policy
What transpired, who believes what should be done differently and initiatives already underway
In late May, a Case Western Reserve University alumna created an online petition calling for the administration to change the sexual misconduct policy.
The petition is in support of a call for change to the policy by Emma Bardwell, a survivor of sexual assault on campus, in a column published in The Observer on May 19. It specifically called for the creation of a special task force to make suggestions for policy changes. As of July 20, 615 individuals had signed it.
"I would hope that they would select faculty, staff and students to serve on this task force in September and bring recommendations back to President Snyder by November 1," said Sandy Piderit, creator of the petition and lecturer at Santa Clara University. "…If President Snyder hasn't decided to make this happen, it's possible that students or faculty could get the attention of the trustees at convocation in August, or at the first meeting of the board in the fall, but it's much harder if President Snyder tries to sweep this under the rug."
The petition specifically addresses President Barbara Snyder, Provost Bud Baeslack, Senior Executive Director of Alumni Relations Bradford Crews and Elizabeth J. Keefer, Senior Vice President for Administration, General Counsel and Secretary of the Corporation.
After Bardwell's initial complaint to the Office of Title IX in the fall of 2016, her rapist was immediately suspended as the office initiated the process of investigating the incident. After the investigation had concluded, he was suspended for a year, but filed a lawsuit in the spring of 2017, alleging that the process used to sanction him was improper. The university settled out of court and his suspension was reduced to just the remainder of the Spring 2017 semester.
The individual then violated that reduced sanction by participating in a Senior Week event. According to Bardwell, she was told that there had been no actions taken due to this, but if he was seen again "in the area" in the limited timeframe before summer began, there would be a hearing. Darnell Parker, Associate Vice President for Student Affairs and Title IX Coordinator, was unable to discuss individual cases, citing federal laws preventing him from doing so.
Her rapist was able to continue taking classes beginning with the summer. His name has not been publically identified.
She believes the university settled the lawsuit because it did not feel its process could hold up in court and alleges that her opinion on the decision to settle out of court was not taken into consideration.
The university responded to the column with a statement discussing that Bardwell's voice had been heard throughout the case.
The statement, in part, read: "Her voice has been heard and considered every step of the process, and we have worked diligently to protect her and her interests as we followed policies designed to ensure that all parties involved in Title IX matters receive full and fair hearings….All that said, we recognize that no action—institutional or otherwise—can undo the pain of the incident, and its after-effects. We commend her decision to serve as an advocate for others"
The policy in its current form
According to Parker, the current process taken by the Office of Title IX when it receives a complaint varies based on the nature of the complaint.
In regard to the petition and concerns over whether CWRU's policies hold in court, Parker said, "We are confident that our existing policies align fully with relevant federal laws and regulations, and closely monitor congressional and agency developments to ensure that this alignment continues."
Bardwell does not feel that is true based on her interactions with the Office of Title IX and CWRU's legal team. She explained that in her case, there were minor errors during the investigation process, but she was not responsible for them and she believes those mistakes opened up the opportunity for a lawsuit.
"I think the sexual misconduct policies need to be reviewed and strengthened as a whole. I think the section on sanctioning needs to be strengthened," she said.  "Another thing that concerns me is the weight of evidence that is required to move forward with a case…I think the reason my case was initially successful was because of the video evidence I had, which is usually not the case."
Information campaigns, trainings
Lou Stark, Vice President of Student Affairs, the division under which the Office of Title IX falls, explained CWRU's sexual misconduct policies and the changes that have taken place in recent years. Since the summer of 2014, incoming students are expected to participate in online training modules that include information about the university's sexual misconduct policy.
"We continue to review all of our policies and practices to identify how we can be more effective in education and prevention, as well as our handling of complaints. One of the new efforts we plan to lead is to do more to educate students about the details of our processes for handling misconduct complaints," said Stark.
Parker also assures the community that the Title IX office is constantly seeking opportunities for improvement.
"We have expanded staff training this summer and are developing additional initiatives to make students aware of measures they can take to help reduce the likelihood of incidents," he said.
One such initiative being introduced this fall is the Green Dot global bystander intervention training program. According to Parker, the Green Dot program seeks to prevent sexual violence by giving students the skills needed to respond to risk in a constructive way. For example, instead of provoking a fight with a potential aggressor, a bystander can cause a distraction that helps the potential victim to escape the situation, such as spilling a drink.
"We want to hear more from students about what steps they believe would have a meaningful impact in reducing sexual misconduct," said Stark. "What other initiatives should we consider? As I continue to work within this area I remain committed to ensuring that all voices are heard and we continue to seek better ways of administering our policies."
Survivors of sexual assault can make reports to the Office of Title IX for the university to initiate action: (216) 368-3066. The Cleveland Rape Crisis Center provides a 24-hour hotline: (216) 619-6192. Danielle Sabo, Advocate for Gender Violence Prevention & Response, can be reached in the Flora Stone Mather Center for Women. A list of campus and local resources for survivors can be found on the Office of Title IX's website.
About the Writer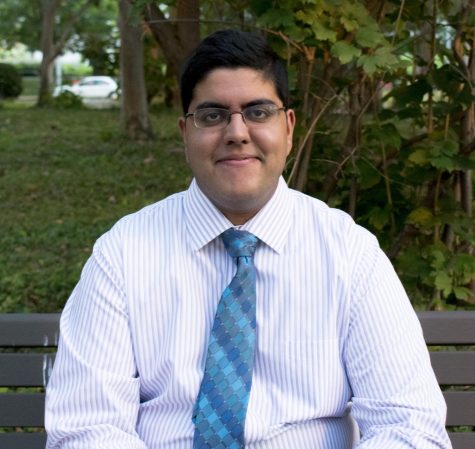 Kushagra Gupta, Director of Print
Kushagra Gupta is a cognitive science and biology student and is working towards a masters in medical physiology. He's served as The Observer's The Director...