Increasing Police Presence During RNC Concerns Campus
This summer students may notice the sudden increase in armed personnel on campus. Groups of Republican National Convention (RNC) officers coming from all around the country have already made arrangements to be housed throughout the Case Western Reserve University campus. An upwards of 2,700 officers are expected to be in Cleveland to police the RNC as disclosed by city officials in a RNC security preparation presentation.
As reported in April by The Observer, some of those housing arrangements have been confirmed to be taken from the summer Resident Assistants' allocated summer housing plans.
"We would take no action—and accept no action—that threatens the well-being of our students, staff, and faculty."
This statement by President Barbara Snyder was issued last Friday in a direct address to the rising anti-police sentiments brewing in the CWRU community. Snyder termed these officers as peace officers, explaining that their function would be for crowd control and riot prevention at the 2016 RNC in downtown Cleveland.
The RNC and the Cleveland Police has a history of violence. In the 2008 RNC in Saint Paul, Minnesota, peace officers, which included mounted police, fired tear gas, smoke bombs, pepper spray, flash bangs, paint marker rounds and rubber bullets to anti-war protesters.
According to a Department of Justice investigation, a pattern was established of the utilization of an excessive amount of force by the Cleveland Police in a range of ways, including: excessive and unnecessary use of deadly force, excessive and unnecessary use of less lethal force, excessive force against the mentally ill and a tendency to unnecessarily escalate situations.
Snyder recognized the "many incidents where some police officers have escalated conflicts to unnecessarily dangerous levels." However she also warns that "presuming that every peace officer coming to Cleveland is predisposed to violence or discrimination represents its own kind of profiling."
The trigger for this campus wide address was an online petition initiated by an anonymous CWRU student two weeks ago. This petition quickly reached over half of its 500 signature goal within the first 24 hours. The petition was composed of requirements and stipulations for the "1,500 riot police to stay in student housing during the Republican National Convention."
The requirements for campus housed RNC officers include:
Off campus weapon storage.

Limitations to only enter their assigned residence halls.

A notification of their lack of jurisdiction on campus.

Prohibition on alcohol or mind altering substances.

Expressed consent to follow University conduct regulations.

Removal from campus upon failure to follow university conduct procedures.

A notification of the campus community of the the RNC officers housing assignments, duration of their stay and a detailed campus security plan to protect the campus community.

Alternative housing arrangements for students if requested.

A campus reporting mechanism for housed police misconduct.
Many commentators shared similar sentiments as rising third-year student Raha Uhlman, who stated that "these precautions are more than reasonable."
The impact of this issue has also reached the attention of alumni such as Shannon Groll, who assert that the priority should be to "protect CWRU as a safe space for all bodies."
Employee of CWRU Housing Department Maia Delegal commented that "The presence of RNC riot police should not interfere with that sense of safety."
Snyder informed the campus that officers are to be segregated amongst themselves and are required to abide by the university's policies while on campus. In regards to firearms, "they will be permitted to bring their handguns into their rooms."
CWRU denied any involvement in the bid for hosting and denied any further questions.
In a follow-up email by Snyder to the campus, she reasserted her intentions to "provide updates as plans become more final," while noting that "some information cannot be disclosed for security reasons."
There were two forums for discussion of the issue last week and for those unable to attend one of these meetings, inquiries can be made about the RNC housing directly to a CWRU representative at rncquestions@case.edu.
When the above email address was used, CWRU replied that they will respond as soon as possible. They have yet to respond.
The RNC will be taking place at Quicken Loans Arena from July 18 to July 21.
[huge_it_slider id="6″]
About the Contributor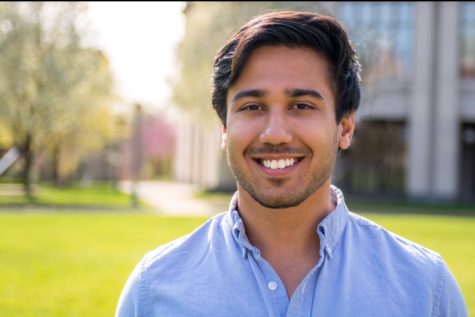 Anmol Nigam, Photography Editor
"Over-ripe sushi,
The Master
Is full of regret."

- Yosa Buson

You can contact him at axn236@case.edu.