Putting down roots
Little Italy garden draws attention
Several years ago, Reta Fiorelli carried her morning cup of coffee out of the apartment building she owns on Cornell Road to sit at the lawn table, jammed in at the side of her overflowing garden.
Her tiny front yard boasts as many decorative ornaments as it does flowers, but that morning something new drew her attention: some fresh flowers, sitting out on her metal table. The flowers continued to appear every morning for a while—pots of live flowers, or long-stemmed gladiolas. Eventually they stopped. Fiorelli assumes that the flower-giver graduated and moved away.
Fleeting encounters like this are frequent for Fiorelli. As she sits by her garden each day, people approach her to compliment the colorful spot on an otherwise brick-and-concrete street. Drivers waiting at the Cornell and Murray Hill intersection roll down their windows to shout out their love for the blooms.  Photographers have stopped by to capture the garden, but they've never returned to show Fiorelli the photos.
Fiorelli is a short woman, 88 years old. She has left her hair its natural grey apart from some purple dye in her bangs. Sitting out one day at the end of the summer, she wore a white dress and necklace, with her sunglasses, nails and toenails all purple. In her apartment, her bedroom is done up in purple as well—with purple drapes and a new purple carpet.
"Everything has to match, otherwise I don't live right," said Fiorelli.
Though not always in this building, Fiorelli has lived in Little Italy most of her life. After she and her husband Joseph married, they moved out into the country for a short while.
"I was always complaining, the place was so far, and it was hard for people to get there," said Fiorelli. "I got tired of everybody saying, 'you live so far away, I would love to come and see you, blah blah blah.'"
So, without telling Fiorelli, her husband bought an apartment building in Little Italy, and the two moved in. Fiorelli had always had flowers and plants around the house, but in this new home she set aside the entire front yard.
"I just love flowers," said Fiorelli. "I love flowers, really. I always did, but since I'm living here, it's all mine, so I can do whatever I want."
When her husband died years later, Fiorelli stayed in the building. Renting out three of the building's four apartments has given her a steady income since then.
Fiorelli and Joseph met at Murray Hill School, where Fiorelli attended kindergarten through eighth grade. Her parents had gone to Murray Hill, too, after they emigrated from Italy as children. She recalls that her family was more Americanized than most of the immigrant families in the area. Her parents both spoke English and had some education, and both of them worked—her father as a tailor and her mother as a seamstress.
After the ninth grade, Fiorelli quit school and began to work as well.
"At that time—that's a long time ago—very seldom a kid went to college," said Fiorelli. "It was rare. Now, everybody goes to college, right? It's so different."
Fiorelli began working at the Besting Company clothing store in Cleveland Heights—"kind of a classy store"—and later at the Halle Brothers Co. department store. When her friend opened a beauty parlor, she took a job as a beautician there and held it for 40 years.
She continued working once she had children, a son and a daughter. Her daughter, Linda Susan, had three children of her own. Fiorelli has a photo of her daughter wearing a fancy dress with her hair pulled up; "Doesn't she look just like Natalie Wood?"
When Linda Susan's children were 10, nine and four, she died of breast cancer, so Fiorelli took them in and raised a second generation. Those grandchildren are all grown and married now, with their own children to care for. They visit Fiorelli every so often, and one of them makes a point of bringing over a pot of flowers whenever she has a few hours to spare.
Fiorelli retired in her fifties, about thirty years ago. By now she has her routine set. She gets up in the morning and brews a strong pot of Folgers Coffee. She drinks the first cup inside and does her makeup before she heads outside to sit in the garden with her second cup. After that, she "putsies" around the house, tidying up. Then, almost every day, she heads out to shop.
"There's Dollar Tree, there's Family Dollar, there's [Dollar General] all that stuff," said Fiorelli. "So I hit 'em all, because I like to spend money."
Sometimes she buys food, sometimes clothes and often new decorations for her garden.
After shopping, Fiorelli makes dinner, frequently offering extra food to her three tenants. She makes sure not to do that too often, though, because then they get embarrassed.
"They're like my grandchildren," said Fiorelli.
Once the weather changes, so will Fiorelli's routine. Already, when people stop to compliment her garden she replies that it's on it's way out. Along with the strings of plastic autumn leaves and the paper jack-o-lantern comes the knowledge that soon enough she will have to pack away her table and chair for the winter.
"I dread it, because I love to be outside," said Fiorelli.
For now, she sits out, enjoying the clear sky and the few, small clouds that hang still, as if frozen in time.
Leave a Comment
About the Writer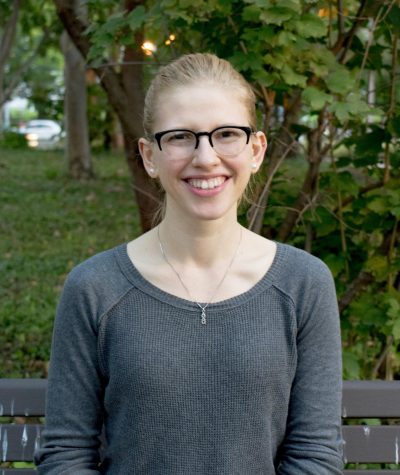 Aquene Kimmel, Director of Web and Multimedia
Aquene Kimmel, Director of Web and Multimedia, is a fourth-year English and French major. She is also Editor-in-Chief of The Athenian and a member of Pi...