Return of the Obelisk
Spartan track and field teams beat Carnegie Mellon for the second straight year
The Case Western Reserve University Men and Women's Track and Field team defeated Carnegie Mellon University by a score of 146-126 in the annual Battle for the Obelisk on Saturday, Jan. 30.
Multiple Spartans were able to beat school, meet and career records. Fourth-year student Christen Saccucci set a CWRU pole vault record, clearing 3.5 meters. She had set the meet record three years ago at 3.21 meters.
"I guess the record was not really at the forefront of my mind," said Saccucci. "I was focusing on clearing one bar at a time and getting as many points as possible for the team. I was feeling good and knew that I could clear the height and that I had to get over the bar for my teammates."
The Spartans also had records from second-year student Skylar Braga, who won the 200-meter dash with a career best 27.29 and also won the 60-meter dash with a time of 8.08. Second-year student Sam Merriman came in first place and beat the meet record with a time of 15:03.08 on the 5000-meter run.
"I was thrilled to see that I got a big pr and even more happy that I ran a hard race," said Merriman about his record.
Regarding the records, coach Eric Schmuhl replied, "Records are great because it's advancing the program culture and expectations, but we don't put too much stock in them. We preach winning events and scoring for the team. 10 points is better than any record. You don't get team trophies for school records."
The Spartans were indeed successful in scoring for the team by sweeping in multiple events. Throwers third-year student Temi Omilabu, first-year student Mikhaylan Price and second-year student Nimi Gupta swept the women's weight throw with distances of 14.20 meters, 14.00 meters and 13.64 meters respectively.
"I feel like I finally found my rhythm and what works for me, and I think that shows in my increased distances," said Omilabu. "The dual meet is always so much fun because of the rivalry. Usually you're competing for yourself and trying to improve your own marks, but at the Battle For the Obelisk, it was cool to see us all come together to beat Carnegie Mellon. I think we're only getting better."
Sprinters first-year student Rasheed Ajala, third-year student Nathaniel Wahner and second-year student Zak Hurd took the top three spots in the 60-meter dash, with times of 7.18, 7.21 and 7.26 respectively. Ajala broke the program record in the 60-meter dash and then broke it again two weeks ago. His dominance in the event helped the Spartans beat Carnegie Mellon.
"My overall goal is to stay healthy and stay hungry," said Ajala. "The success that I've had so far only gives me the confidence that I need to become a dominant sprinter in the UAA… There is a very high correlation between the environment I get to practice in daily, and my success on the track."
Fourth-year student Kelsey Aamoth, third-year student Olivia Zabrodsky and first-year student Jennifer Hoffman swept the mile runs with times of 5:25.87, 5:33.18 and 5:34.15, respectively.
When asked about noteworthy performers, Coach Schmuhl mentioned two athletes in particular. "Rachel Laveson winning the 5k was a big moment," said Schmuhl. "Clinched the meet for us and was an outstanding performance from her. Cassandra Laios jumped out of the pool (literally) from the swim meet and won the shot put for us."
The Spartans had great performances in the long distance races, much to the delight of Merriman. "Last year [CMU] almost swept the distance events. It was great to beat them, but it was even better to see how upset their distance team was," he said.
On the women's side those distance races were won by second-year Danielle Kulpins with a time of 10:41.00 in the 3000-meter run and fourth-year Rachel Laveson with a time of 19:02.57 in the 5000-meter run.
"The entire time I was racing I was thinking about running for my team. All I could think of while I was finishing was running hard to help us win," said Kulpins. "Beating CMU was a dream come true. Last year we started a tradition of smashing a watermelon. This year we took that to another level with a giant hammer Coach S constructed. We get so excited for this meet, so winning again was really achieving the goal we set after last year's win."
Other first-place finishes by the Spartans included Nicholas Heim with a distance of 15.16 meters on weight throw and Grant Mlack with a time of 8.69 on the 60-meter hurdles.
Saccucci summed up the entire day for the team. "Everyone is fired up and ready to compete and there is an air of intensity as if our duel with CMU is a championship competition," he said. "It might as well be. The team came together and encouraged everyone to push themselves to times, heights and distances they did not know were possible. I am amazed and so very proud of everyone for this weekend's performance."
CWRU's next meet is the Jim Wuske Invitational, Saturday at the University of Mount Union at 10 a.m.
About the Contributor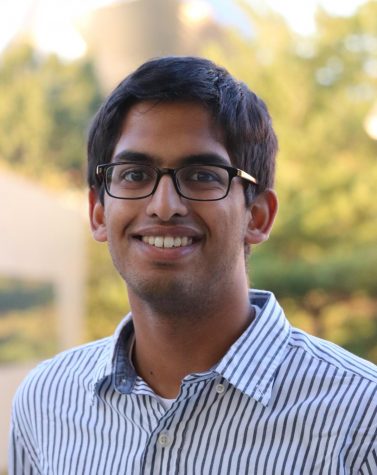 Shounak Bose, Web Editor
Shounak is a fourth-year biomedical engineer and is the web editor for The Observer. He is also a brother of the Delta Chi Fraternity, and is involved...