Richards: Abandoned bicycle f(rust)ration
The frustration that ensues when putting in all of your effort to wrestle your bike between two others on a bike rack is the bane of owning a bike here at Case Western Reserve University. Besides the adrenaline of almost getting hit by a shuttle on Euclid Avenue, the reason bikers on campus have bikes is because they provide efficiency. We are blessed with that extra 15 minutes of sleep because we can get to class in a fraction of the time it would take to walk. So what happens when your precious efficiency is burdened with the time-consuming wrestling match between your bike and another one that's been rusting away in the neighboring spot way too long?
I'm talking about the problem of abandoned bikes on campus. Go to park your bike at Kelvin Smith Library and observe the mess of bikes that make up the bike rack area outside. You can only hope that one of the few spots available is not taken up by a bike which could probably be hung in the Cleveland Museum of Natural History as CWRU historical art.
Some are missing pedals, seats or even wheels. They haven't moved, except for the times when students battle with them in the fight for a spot to lock up. Yet they still sit, rusting and bringing frustration to already-stressed college students.
The solution seems simple: Get rid of the abandoned bikes.
That's what's supposedly being enforced according to Case's Division of Public Safety website, which states that unclaimed or abandoned bikes will be "donated to boys' and girls' organizations." But the catch is that is only being enforced for bikes "with no regist[ration]."
There's good news and bad news here. The good news is you don't have to worry about taking your bike with you when you graduate. Just lock it up without a registration sticker and come back in 30 years when your midlife crisis tells you that you should partake in a triathlon with the help of your trusty college bike.
Bad news is that it'll probably need some grease on the chain, and you've infuriated numerous college students for thirty years.
Perhaps a more logical solution would work, like putting a notice on the bikes that they will be donated in two months unless they are moved. As for the argument that we can't tell if the bikes are abandoned or not, move them to a place where they can't waste the already scarce bike parking but can still be redeemed if the owner comes forward and identifies the bike.
With the amount of effort the Public Safety Division puts in to assist bikers (bike racks in residential facilities and outside of nearly every building, handing out free U-locks for registered bikes and employing bike "Fixit" stations around campus), there needs to be more enforcement in this realm. We can't just let more and more bikes pile up over the years.
In the meantime, we will have to put up with the abandoned bike frustration until a proper solution is reached that allows us to peacefully lock up our bikes and obtain that efficiency we so truly cherish.
Jason Richards is a first-year computer engineering student. He fell off his bike Monday morning and suffered a severe case of embarrassment. He dislikes Mondays.
About the Writer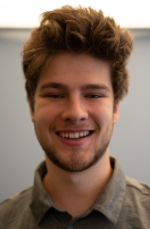 Jason Richards, Staff Columnist
Jason Richards is a fourth-year computer science major and English minor. He enjoys programming, cooking and spending his money at Chipotle.