Richards: The past and the CWRUture
History is a huge part of Case Western Reserve University. We dedicate a lot (of money, time and effort) to the upkeep of our historical buildings on campus, shown in the recent renovations of Thwing Center last summer and the restoration of the four main buildings on the Mather Quad in 2016.
A lot of that dedication is also spent keeping the cultural and historical environment of the campus in perspective. We are always making sure as the campus evolves not to disturb the venerable surroundings like Little Italy, the Case Quad's peaceful squirrel reserve or the orange glow of the old-fashioned halogen street lamps.
At the same time, CWRU has been rapidly moving toward a more future-oriented campus, with the recently constructed Tinkham Veale University Center displaying a touchscreen wall of displays, charging stations and a modern glass-wrapped architecture.
Beyond the buildings, CWRU has been on top of web connectivity, introducing nothing but the fastest wired fiber-optic internet connectivity and full campus-wide wireless access. The Kelvin Smith Library has progressed into a tech-savvy collaboration workspace featuring the Freedman Center for Digital Scholarship established in 2005 to bring "state-of-the-art equipment" that "harnesses the power of modern technology."
Monitors installed in residence halls and buildings on the quad keep students up-to-date on the most current campus events, hours of operation of dining services and general announcements.
The WEPA printers, though seemingly unreliable and lacking in quantity around campus, offer cloud-based printing for all students and faculty.
Ongoing changes include a redesign of the Student Information System, implementation of the roommate search website "My College Roomie," a new student engagement platform to replace OrgSync and electronic package pickup rooms.
This list goes on, and these recent and current introductions of tech and modern architecture still preserve the university's historical nature while keeping up with the latest advancements and growing tech needs of a future-oriented school. But some of the "history" of the university is just a little too "history-y."
Millis Schmitt Auditorium seems like a dungeon with its brick walls and loud mechanical pulley-system of chalkboards, while it's a good day in Strosacker Auditorium if the squeaky pull-up desks don't drop your laptop or notebook and interrupt the lecture, if you can even get them to stay in place to begin with. Ceiling tiles are missing in some residence halls, and pipes are bursting in others.
It's important for a university to keep up-to-date with technology to remain relevant to the growing population of tech-savvy students in this decade. CWRU is heading in the right direction with these upgrades while keeping the history of the campus in view, but it should still push the importance of adding new tech more than ever.
For example, the Larry Sears and Sally Zlotnick Sears think[box] was a huge addition to the digital facet of the university and received a lot of attention from students and families for its ability to aid in the process of innovation. Innovation means a great deal to CWRU and builds up its reputation among other schools.
But it needs more.
I don't mean that it's necessary to add another 7-story, 50,000 square foot creation station to the mix, but I do mean that more technology, futuristic approaches to education and quality infrastructure is the key to making this campus as "tech-y" as it should be. To do this, maybe more of the dedication to the past of the university needs to be put towards building its future.
Jason Richards is a first-year computer engineering major. He aspires to contribute to the future of technology in connecting people together more than ever.
About the Writer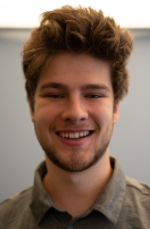 Jason Richards, Staff Columnist
Jason Richards is a fourth-year computer science major and English minor. He enjoys programming, cooking and spending his money at Chipotle.