WRUW and UPB bring dance act to CWRU
RJD2 headlining energetic show, Feb. 11
University Program Board and Case Western's radio station WRUW are both known for putting on concerts, whether it is Spot Night, Studio-a-Rama, the Fall Concert or Punk Prom.
The two groups have finally collaborated to put on a show that breaks away from what both organizations are used to doing. DJ and producer RJD2 will be coming to CWRU this Wednesday, Feb. 11, for a late-evening dance party in the Tinkham Veale University Center ballroom. Opening for RJD2 is PSTRCHLD, a student DJ.
The show is free to all CWRU students with an ID, and anyone else can purchase tickets for $10 at tickets.case.edu.
UPB's Director of Concerts Jay Zhang is happy about the collaborated event. "I think it was really beneficial to us because [WRUW] opened our eyes up to artists we would never have known about otherwise," said Zhang. "Working with them brought a fresh perspective to the table, and I am very excited to see what will come of it."
RJD2 combines hip-hop elements with unique percussion, creating wistful DJ tunes. "A Beautiful Mine," the theme song to "Mad Men" is from RJD2's 2006 album "Magnificent City Instrumentals." But he's continued releasing new music; his latest album "More Is Than Isn't" came out in 2013.
"We picked RJD2 because both UPB and WRUW were interested in bringing a dance show to campus," said Zhang. "We also both mutually agreed that students would enjoy a high energy show which made us interested in the electronic and dance genres."
The planning was in the works since the fall 2014 semester, but both UPB and WRUW broke into their budgets and figured out the show logistics at the beginning of 2014's winter break. Though UPB took more control when working with agents, every decision was made with the two groups' approval.
On top of just the concert, the groups have planned a light show for the duration of the concert, and will be handing out glow sticks to students and community as they enter. The focus is on the fun, according to Zhang. "We really want it to be a fun night out for students and their friends," she said.
Concert: RJD2/PSTRCHLD
Location: Tinkham Veale University Center ballroom
Date: Feb. 11, 9 p.m.
Price: Free with CWRU ID, $10 GA
Leave a Comment
About the Contributor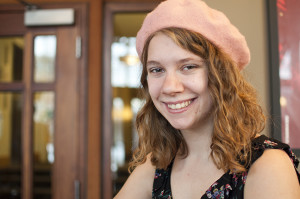 Anne Nickoloff, Director of Print
Anne Nickoloff, the Director of Print for The Observer, is a senior at Case Western. She hopes to one day be a music journalist, and has spent much of...