Graduate student attacked by CWRU security officer
On the night of Wednesday, Sept. 2, a Case Western Reserve University security officer attacked a 32-year-old CWRU graduate student on Bellflower Road near Ford Drive.
The perpetrator was later identified as Robert Peterson III, a 26-year-old mobile patrolman.
Peterson also verbally threatened other bystanding students.
When police arrived on the scene, Peterson was found with blood on his right hand. The graduate student was found on the porch of Steiner House with blood coming from his mouth.
The graduate student declined to comment and wishes to remain unnamed.
While his name remains on the CWRU Police Department roster online, Peterson is currently on administrative leave and has not responded to a request for comment.
Peterson told police on the scene initially that he was acting in self-defense, and that the student assaulted him. However as the investigation proceeded, it became quickly apparent that this was not true.
Upon seeing the student's condition, a responding CWRU police officer called Case Emergency Medical Services to the scene and the student was taken to the emergency room at University Hospitals Case Medical Center (UHCMC).
The security officer was initially taken back to CWRU police headquarters. After he became "increasingly agitated," he was transported to UHCMC for evaluation as well, which President Barbara R. Snyder noted in an email to students the next day.
Snyder apologized for the event.
"I will update the campus community as additional information emerges," the message concluded. "For now, let me emphasize our deep regret regarding this incident."
As of press time, no additional information had been shared with the student body by the university.
CWRU PD is typically required to release security alerts on security threats to students on campus, but one was not sent out in this situation.
"Because all of the reports to date have been transferred to Cleveland Police Department, and they are independently investigating the case, they are the agency charged to release information," said a representative of CWRU. "It is not ours to release."
CWRU third-year student Ryan Rose was surprised that the incident occurred, and was a bit concerned that the university hadn't said anything more.
However, he said he didn't feel any less safe on campus, describing the event as an "isolated" incident.
Second-year student Allison Root agreed that she didn't feel any less safe. She was "appalled" after hearing what happened though.
"You'd think he would have better judgement if that was his job," Root said. "I don't think that one guy is a reflection of CWRU security, but it's concerning that whoever hires CWRU security would hire someone who would do that."
Leave a Comment
About the Writer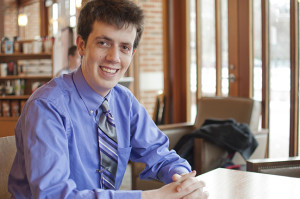 Mike McKenna, Executive Editor
Mike McKenna is a senior biology and psychology student currently serving as The Observer's Executive Editor, after spending last year in the Director...