Sigma Phi Epsilon revokes campus charter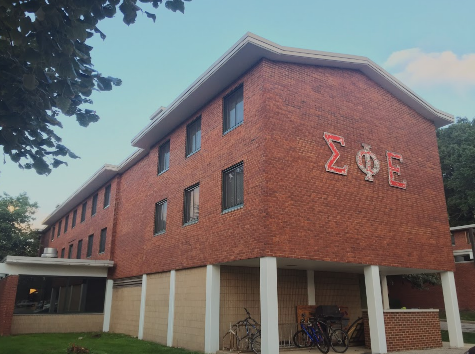 After dark on Thursday, Sept. 29, the Ohio Sigma chapter of Sigma Phi Epsilon (SigEp) gathered in Nord Hall. None of them, not even their president, knew why the meeting had been called.
A staff member from the fraternity's headquarters told the group that their charter was revoked due to a violation of university policy made while the chapter was already on probation. Representatives from the Department of Student Affairs, the Office of University Housing and the Greek Life Office (GLO) were also present at the meeting.
The 18 members living in the SigEp house were given until 4 p.m. the next Sunday, Oct. 2, to move to other residence halls or off-campus.
"Devastation, confusion, hostility about sums up the progress of the meeting," said former Chapter President Ryan Miller. "We were informed we were no longer recognized as members of our beloved chapter and later told that we were 'not committed to meeting the fraternity's most basic expectations and living by our values.'"
On a Friday in September, about 25 members of the Ohio Sigma chapter had held a party with alcohol in the chapter's house, with new members present. An individual made a recording at the party, and that was sent to the GLO which then contacted SigEp headquarters.
The Ohio Sigma chapter had undergone escalating disciplinary action over the past couple of years, including a membership review by their headquarters and three university hearings. Following the third hearing, SigEp's probation included a warning that any further policy violations would result in revocation of their charter. An Alumni Advisory Council (AAC) was also placed in control of the chapter as part of the probation.
Once the recent violation was known, SigEp headquarters and the AAC met with the GLO. The AAC voted unanimously to revoke the chapter's charter, and SigEp headquarters upheld that decision. According to GLO Director Mark Starr and Interfraternity Congress President William Oldham, if headquarters had not made the decision, it is likely that Case Western Reserve University would still have revoked the charter, given the group's probation terms.
Members are officially "suspended," meaning that they are not permitted to wear their chapter's letters or formally associate with the fraternity, until graduation. After that, they will have normal alumni status in the fraternity. Vice President for Student Affairs Lou Stark has already determined that SigEp will return to campus in 2020, in time for the chapter's 25th anniversary at CWRU.
According to Starr, a fraternity's headquarters may close a couple of chapters a year. At CWRU, a chapter has been closed approximately every ten years; the most recent was in 2007, and the last one before that was in 1996.
"I am saddened that it came to this," said Starr. "We work hard to try to avoid closing chapters. When we know a group is struggling, we try to get all involved parties together to work to get the chapter back on track. A lot of time and effort was put in by all involved in this case, and it's disappointing that this was the result."
Before it was closed, SigEp had 29 brothers and 10 new members, who had gone through the first of SigEp's three Rites of Passage this semester. According to Starr, the new members will be permitted to join other chapters at CWRU.
The SigEp house, already vacated by the former residents, will go to another Greek chapter. The specifics of how the chapter will be selected have not yet been determined.
According to Miller, many SigEp members are unhappy with the quickness with which they were required to leave the house; they had just over 60 hours in total. Some members asked University Housing for an extension, which Miller says that the office rejected because of "concerns about extra hours for University security."
"I am extremely concerned about the well-being and mental health of our members, especially those who were forced into a new living arrangement in a mere 60 hours," said Miller. "An extension of several days was asked, but was denied due to concerns about extra hours for University security. "
According to a university spokesperson, the housing transition process was based on recommendations from the GLO and SigEp headquarters.
Though he cannot wear letters until he graduates in May, the chapter's former Vice President of Membership Development, Grant Simonson, says that he will still uphold SigEp's values of virtue, diligence and brotherly love.
"SigEp has been incredibly influential in my life," said Simonson. "It has taught me a lot about what it is to be a values-oriented person and what it is to have and hold and practice a value, and I know that many of the brothers will continue to live out the values of SigEp."
Since the chapter went through the membership review last year, Miller and Simonson both felt that the chapter had been improving. Simonson helped to implement the Culture of Care plan stipulated in their university probation, focusing it on community engagement, membership apathy and alcohol culture. He also could not recall a time that the AAC actually found it necessary to overrule one of the executive board's decisions for the chapter. According to Miller, the chapter GPA of 3.474 placed second among CWRU's 18 fraternities.
"I joined this chapter in fall of 2012, and to see our chapter dissolve four years later absolutely has broken my heart," said Miller. "I feel most for our younger members, who have been robbed of the fraternal experience that I along with the majority of the chapter considered to be one of the best decisions of our lives."
According to both Starr and Oldham, Phi Kappa Psi and Delta Tau Delta, both of which underwent membership reviews when SigEp did, have not had further chapter policy violations or violated their sanctions since then.
Following the dissolution of the Ohio Sigma chapter, Simonson said that, for him, the real tragedy would be to lose a sense of belonging in CWRU's greater Greek community. Miller noted that, so far, he has felt supported by other Greeks.
"This is hard, especially for those members, in a very human way," said Oldham. "This is hard. [Our SigEp chapter] as an organization, it means a lot, and it's done now."