Solid performances lead track and field teams
Both the men and women's track and field teams won by a significant margin at the Dick Small Meet at Defiance College over the weekend.
The women's team finished with 149 points, 29 points higher than the next closest team, Alma College. The men's team won by an even larger margin, finishing with 167.5 points, almost 50 points ahead of second-place Albion College.
The women's team was led by first place finishes from first-year student Olivia Newman, second-year student Cassandra Laios and fourth-year student Emily Harker. Newman won the 400-meter dash by just three tenths of a second, with a time of 58.81 seconds. Finishing a few seconds behind her to take fourth and fifth place, respectively, were fourth-year student Cecelia Hanline and first-year student Ellie Kerpan, with times of 1:03.95 and 1:04.04.
Laios led the throwers, winning shot put by a distance of 12.08 meters, and finishing sixth in discus with a distance of 32.14 meters. Also scoring points for throwers were first-year student Mikhaylan Price, who finished sixth in shot put with a distance of 10.56 meters, second-year student Nimi Gupta, who finished sixth in hammer with a distance of 40.10 meters, fourth-year student Monica Hiller, who placed eighth in hammer throwing 39.29 meters, and fourth-year student Meredith Shea, who placed fifth in javelin throwing 26.98 meters.
Leading the jumping events was Harker, who won high jump with a height of 1.55 meters. The trio of Harker, second-year student Meredith Haller and fourth-year student Laurel Shickler was able to sweep the top three spots in high jump. Both Haller and Shickler reached a height of 1.45 meters.
The men's team was led by second-year student Grant Mlack, first-year student Ben Resnick and third-year student Patrick Shober. Mlack won the 400-meter hurdles with a time of 54.27 seconds, which ranks as the second fastest in all of DIII. Mlack also scored points in the 110-meter hurdles, where he placed second with a time of 15.44 seconds, and in the 4×400 relay.
The relay team finished second with a time of 3:30.43, and included Mlack, third-year student Nathaniel Wahner, second-year student Andrew Ibibo and third-year student Perry Billet.
Resnick won the 5,000-meter run with a time of 16:19.67. He was followed by fourth-year student Tim Travitz, who finished in 16:30.37. Also scoring points in distance events was third-year student Bryan Kelly, who finished fourth in the 10,000-meter run with a time of 34:34.56.
The throwers were led by Shober, along with fourth-year students Alex Nesvisky and Nick Heim. Shober won javelin with a distance of 52.78 meters. Nesvisky came in second in shot put with a distance of 13.76 meters. Heim came in sixth place in hammer with a distance of 46.85 meters and eighth place in shot put with a 38.20 meter throw.
After a recent change in plans, the Spartans' next meet will be at the Wooster Invitational this weekend. The team was originally supposed to travel to High Point, North Carolina to participate in the VertKlasse Meeting.
Leave a Comment
About the Contributor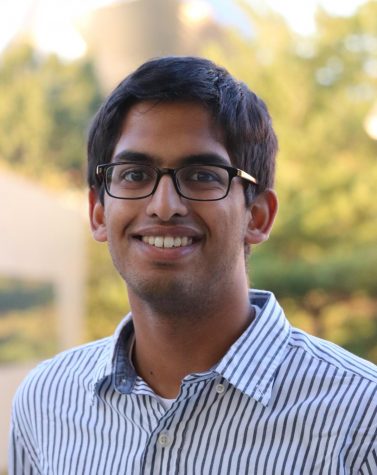 Shounak Bose, Web Editor
Shounak is a fourth-year biomedical engineer and is the web editor for The Observer. He is also a brother of the Delta Chi Fraternity, and is involved...