Strong performances lead track and field teams to pair of third place finishes
On Sunday both the men's and women's track and field teams finished third out of nine teams with exactly 104 points at the Marv Frye Invitational at Ohio Wesleyan.
The women's team was led to a victory by second-year student Claire Plunkett, a second-place performance by fourth-year student Taylor O'Neil and third-place showings by first-year student Shannon Carroll and second-year student Cassandra Laios.
Plunkett led the 3,000 meter steeplechase with a time of 12:39.29. O'Neil finished second in the 800-meter run with a time of 2:21.63 and helped the 4×400-meter relay team finish second as well with a time of 4:08.51. Along with O'Neil, the team consisted of first-year student Olivia Newman, second-year student Maria DeRenzo and third-year student Abby Casalnova.
Leading the throwers, Laios placed third in both shot put and discus. In shot put, she reached a distance of 11.60 meters, while in discus she reached 37.98 meters, placing her second in the University Athletic Association (UAA). Carroll performed well in both running and throwing events. She finished third in the javelin throw with a distance of 31.65 meters and eighth in the 100-meter dash with a time of 16.80 seconds.
The throwers led the men's team to multiple first-place finishes. Fourth-year student Nicholas Heim won the hammer throw with a distance of 49.24 meters, and third-year student Patrick Shober won the javelin throw with a distance of 52.43 meters. Heim's throw placed him second in the UAA and 43rd overall in DIII.
In jumps, the Spartans were led by first-year student Ananth Suresh and fourth-year student Jared Brucker. Both finished third-place in their events in both the meet and the UAA overall. Suresh finished 13.01 meters in triple jump, and Brucker cleared 4.24 meters in pole vault. Fourth-year student Spencer Boyd placed fourth in the conference rankings by clearing 1.86 meters in the high jump.
Leading the runners were third-year students Nathaniel Wahner and Galen Caldwell. On the 400-meter hurdles, Wahner finished fourth in both the meet and conference with a time of 58.10 seconds. Caldwell finished third in the 1,500 meter run with a time of 4:08.22.
The next meet for the Spartans will be back at Ohio Wesleyan for the All-Ohio Championships on Saturday.
Leave a Comment
About the Contributor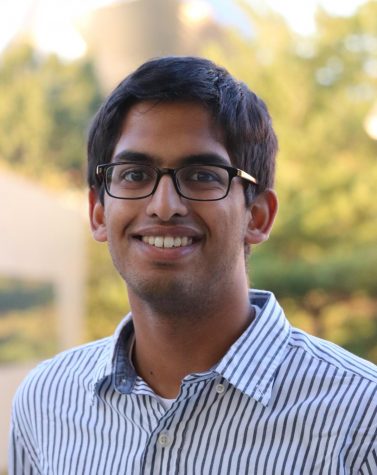 Shounak Bose, Web Editor
Shounak is a fourth-year biomedical engineer and is the web editor for The Observer. He is also a brother of the Delta Chi Fraternity, and is involved...