Students fight for first at Gluttony Gauntlet
Ever wanted to gain about 5 pounds in a half hour?
Me neither.
But this is what many contestants did during the Melt Challenge portion of the University Programming Board-sponsored 6th annual Gluttony Gauntlet at Case Western Reserve University. Participants had half an hour to eat as much of a huge grilled cheese sandwich as they could. The sandwich, made from local restaurant Melt Bar and Grilled, lurked in a baked tin which had been evenly filled with fries and coleslaw.
The second portion of the event was a relay made up of three-person teams. First leg was salad (it was great to see some healthy options), second was two Jolly Scholar burgers and the last leg was a quart of ice cream. These contestants were competing for the prize of Visa gift cards, and maybe just to have a free dinner.
After getting second place last year, the Delta Chi relay team was back with their eyes on first. Their training: just eating a lot daily. Junior Josh Osborne, the salad eater on this team, suffered an injury in last year's competition.
"I bit my finger," he said. "There was a bruise on one side and like a dent on the other."
The Fiji team, about 10 guys sitting together at a table, took first place last year. Their captain junior Jonathan Fuentecilla explained Fiji's training process. There were practice runs starting a week prior, team dinners up until two days before the event, some salad eating sessions and fasting the day of event with drinking only warm water.
"Drinking cold water shrinks your stomach," he said.
This may sound intense, but it was needed to see who was the best of the best; six students didn't even make the team.
The tables were on tarps with buckets next to each seat, and EMTs were on standby. Every year there are a few people who can't handle all the gluttony and throw up, this year being no exception. Intense training might be necessary.
There's a lot of advice on how to eat a crazy amount of food, which was explained by the emcee of the event junior Bill Tomaszewski. During the challenges he called out some "protips" such as….
"Pour water on the food and drink it like a soup"
"Eat with your hands and feet to increase efficiency"
"Run in place while eating to burn calories, but shuffle your feet cause you can't get up"
"Watch 'Family Guy' while eating."
(A contestant actually brought his laptop and was watching "Family Guy" during the competition).
Despite the likely sickness which followed for most of the participants, the event winners brought home one of CWRU's most esteemed prizes: biggest foodie.
Here are the winners of Gluttony Gauntlet:
Melt Challenge: First place Sam Hong, second place Russell Henninger, third place William Driscol
Relay: First place Fiji All Stars (Jon Fuenticilla, John Stockman, Kevin Wang), second place Delta Chitty (Hyung Chul Kim, Kevin Smith, Josh Osborne), third place ZBT (Anjay Khurana, Nate Lundie, Adam Holets)
About the Contributor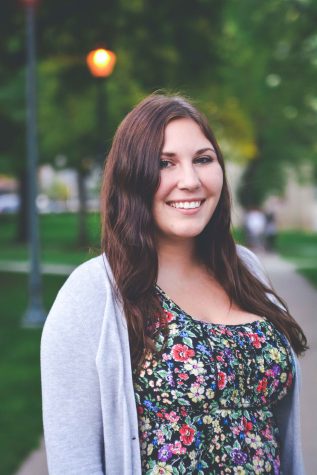 Alex Clarke, Arts & Entertainment Editor
Alex Clarke is a senior with majors in english and psychology and a minor in marketing. She also writes for Trill Mag, wrote for McClatchy newspapers for...