Swimming and Diving finishes strong in Midwest Invitational
The Spartan swimming and diving squads sent parts of their squads to the Midwest Invitational at the University of Chicago last weekend, Friday, Feb. 21 and Saturday, Feb. 22. The Spartans squad emerged victorious in their seven-team meet while the women placed fifth out of eight squads.
A pair of first place finishes lifted the men's team to victory. The Spartans big win came in a first/second sweep in the 400-yard freestyle relay. The "B" team for the Spartans touched the wall in 3:26.91 for first. The team was made up of sophomore Joe Jensen and a trio of freshmen, Evan Rose, Stefan Roeseler and Justin Lee. They narrowly beat out the Spartan "A" team who swam the race in 3:28.88.
The women's team was led by freshman Ellie Wilson, who swam a speedy 1:05.11 for the Spartans in the 100-yard breaststroke, the only first place finish for the women. Wilson also finished second in the 200-yard breaststroke.
This week also brought the high honors for the Case Western Reserve University's men's and women's swimming and diving teams, as both were given the College Swimming Coaches Association of America (CSCAA) Scholastic All-America Team Honor. The award goes to squads with success in both the classroom and in the pool.
The women's team recorded a grade-point average of 3.44 this year and has set school records in the 100-yard breaststroke and the 200 IM. The men's team has earned a grade-point average of 3.43 and excelled this season, breaking nine school records in the 100 freestyle, 500 freestyle, 1,000 freestyle, 400 IM, 200 freestyle, 1650 freestyle, 100 butterfly, 200 backstroke and 800 freestyle relay.
The Spartans are now looking ahead to the NCAA Division III National Championship, which is set for March 18-21 in Shenandoah, Texas.
Leave a Comment
About the Contributor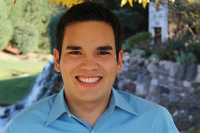 JP. O'Hagan, Sports Editor
JP. O'Hagan is powering through his third year as Biomedical Engineering major and Spanish minor, while serving The Observer as Sports Editor. JP is...