Vigil for terrorist attacks, other tragedies moves from mourning to hope
On Monday, Nov. 16, over 50 Case Western Reserve University students, faculty and community members gathered to hold a vigil for victims of the terrorist attacks and tragedies that had occurred around the world the preceding week.
At 6:30 p.m., the time when the event was set to start, students and faculty were still standing in uncertain clumps around a blank banner laid out on the ground in front of Kelvin Smith Library (KSL).
A security officer walked through the crowd, stepping on the banner without looking down.
"Oh," said one student, surprised by the crunch of his foot on the paper.
As a few stragglers arrived, the crowd gathered together in close rows, facing out towards the empty lawn of the KSL oval.
Cheryl Toman, associate professor of French and advisor for the Middle Eastern Cultural Association, spoke first. She thanked everyone in attendance and encouraged those present to speak about the recent tragedies.
"I know for a fact that there's been talk that there hasn't been enough attention paid to Beirut as opposed Paris, as opposed to what happened [to the Russian airliner in Egypt], but as long as there's an awareness, as long as that increases, then somehow that's a good thing," said Toman.
Toman then introduced Dean of the College of Arts and Sciences Cyrus C. Taylor, who spoke about the many tragedies that had happened, specifically mentioning Afghanistan, Bangladesh, Chad, France, Israel, Nigeria and Saudi Arabia.
Ramez Islambouli, full-time lecturer of Arabic, spoke next.
"Remember that when the terrorists blew themselves up, they didn't care about the religion of their victims, didn't care if they were Muslims, Christians or Jews," said Islambouli. "They didn't care if they were young, or children. They didn't care if they were males or females."
"The terrorists did not care, but we care, and that's why we are standing here today," Islambouli continued. "We care for the human life that is being killed for no reason."
As the vigil continued, more faculty and students stood before the row of candles to speak to the attentive crowd.
"There're so many people in this world that are suffering on a daily basis, and it's important to remember all of them," said a student who was on crutches and couldn't reach the edge of the lawn where most of the speakers stood. "Not one life matters more than any other."
One retired French professor was struck by how young most of the terrorists were.
"They probably were not welcome well enough [in France] if they committed such atrocities," said the retired professor. "So beyond what happened, I think we have to look at the people who committed and change something. I don't know if it's the government, I don't know who has to change, but something has to change."
Before the crowd broke up, Toman called for a moment of slightly delayed silence, after one that had been recognized around the world earlier that day.
As the group stood in silence, some looking straight forward and some staring down, one student broke away from the front row, where she had been standing. Before the gathered group, she knelt and picked up two candles that had gone out, struggling to relight them from the others in the row.
"I can't do anything now for the people of Paris—it's too far away, I have too little knowledge of what people need," said Susan McKay, the second-year student who broke the stillness to relight candles. "But if those candles mean anything for the people around me, they need to be lit. They need to be."
After the moment of silence ended, the crowd spread out. Some went over to write on the banner, while others gathered in groups to talk. Several children ran about through the crowd, laughing aloud after spending so much time standing quietly to hear each speaker.
"The message really is to live with love and with courage and to carry on," said Sarah Hartley.
Leticia Dornfeld, first-year student, stood, holding a candle, and watched as people filled in the banner with messages of hope. For her, the takeaway of this is still uncertain; she hopes that France will respond to their recent attacks with peace, rather than with fear and escalating violence.
Celeste Engel, a French-American second-year student and a member of À La Carte, CWRU's French club, wrote on the banner and then stood to talk with other students and professors.
"Like I wrote on the banner, our unity is our strength," said Engel. "I think when everyone gets together and mourns together, you realize how impactful some acts are and how hard times can make people unite. I think that when we unite we become more powerful and we can make a change."
As they finished writing on the banner and began to feel the call of homework and bed, attendees at the vigil began to disperse.
Laura Nguyen, a fourth-year student, had arrived early to help set up, and now she remained to blow out candles and help clean up.
"This is a cause that touches my heart," said Nguyen. "Paris is a place that I hold near and dear, and I wanted to help as much as I could."
Toman, too, was working to tidy up after the event. She helped to pull the event together after she'd gotten an email the afternoon before from Professor of French and Humanities Marie Lathers suggesting that they hold a vigil that night.
Toman spends summers in Paris. In one of the terrorist attacks, 19 people were killed in a café where she had spent many daytimes working and chatting with the servers. She felt that this event needed to be held soon, before it lost its impact and its potential to help create change.
As the last few attendees were walking away and Toman and Nguyen began to pick up the markers scattered around the banner, one student rushed forward, kneeling to quickly write on the banner in Arabic, one final message.
"Freedom for everyone."
Leave a Comment
About the Contributor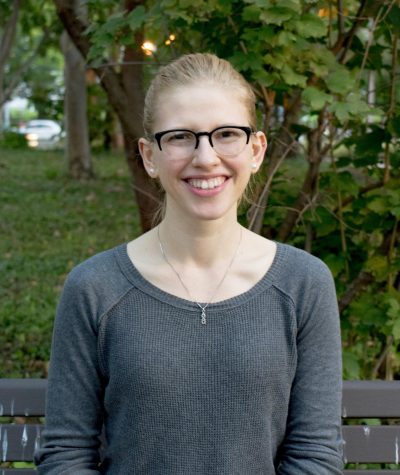 Aquene Kimmel, Director of Web and Multimedia
Aquene Kimmel, Director of Web and Multimedia, is a fourth-year English and French major. She is also Editor-in-Chief of The Athenian and a member of Pi...