The search for cancer-fighting drugs and the discovery of a senior's passion
Just like many first-year students, senior Jessica Lin was not sure what she wanted to do when she arrived on campus. Four years later, she has found her passion in medicine.
This past summer, Lin worked in a neuroscience cancer lab in the medical school studying the effects of a library of drugs provided by the National Institute of Health (NIH) on glioblastoma cells. Glioblastoma is a malignant tumor that affects the glial cells in the brain. The group of drugs consisted of all cancer-related FDA approved drugs. The laboratory found that one, Pitavastatin, did reduce tumor cell growth.
The laboratory was interested in exploring glioblastoma cells since only few treatment options are available for glioblastoma tumors, with varying success. The brain tumors have a high mortality rate, and death usually occurs within one to three years in all age demographics.
Lin explained that many tumors can be surgically removed, but with glioblastoma tumors, many times the risk of surgery does not outweigh the benefits. If a single cell is missed in the surgery, it will proliferate and the tumor would grow back.
While the laboratory did find that Pitavastatin, a medication to lower blood cholesterol, reduces tumor cell growth, the drug is not able to cross the blood-brain barrier and thus isn't a feasible clinical option. This is because when taken into the blood, the drug won't be able to get to the brain, where the tumor is located.
"We're continuing to screen the library," said Lin. "We're looking at different drugs."
To do drug research, Lin has to use the reagent known as alamar-blue. Reagents such as these are a critical portion of a cell growth assay. They measure the amount of cells alive some amount of days after treatment with a drug. This reagent gives off a fluorescent signal once metabolized by cells that can be measured. The more florescence given off by a group of cells, the more of them are alive.
Lin had to learn a lot when she joined the lab her junior year. Proper sterile work technique was extremely important, especially when working in the tissue culture hood. Tissue culture hoods may look similar to fume hoods, but their goal is to protect both the user and provide a sterile work environment within. The insides are kept sterile through the use of a glass wall. A wall of air produced by fans prevents air from leaving or entering the bench's insides.
Lin never imagined her passion for this type of work as a child.
She grew in California, a place without Cleveland's notorious weather. In fact Lin never really saw snow in California.
"I never had weather," she joked.
While she may not have gotten to try her luck with a relationship with snow, as a child she loved dogs. In high school she wanted to become a veterinarian.
However it didn't turn out to be something that she was that interested in after she found out more about the job.
When she entered Case Western Reserve University, she began studying polymer engineering instead. She was specifically interested in drug delivery. She even did an internship in Ireland, but decided afterward that the discipline wasn't for her.
She thinks she was brave here. Lin was willing to try out new experiences, and it was only through this could she decide on whether she enjoyed a subject.
"Sophomore year was a time of soul searching," she said.
At CWRU she also joined the University Program Board. Thwing Tuesdays were her favorite event. She also participated in the Horizons program. Affiliated with the medical school, it allows undergraduates and medical students to discuss various health professions and topics with local high school students.
Lin believed in doing only what she actually enjoyed. She also remembered emails that talked about a lot of opportunities that she would not have otherwise found.
She thinks it's important for students to reach out for help.
"It's such a struggle," she said. "It seemed impossible at the time."
Eventually Lin realized that medicine was her calling, and she will graduate this May with a degree in biology. She is also considering doing more basic science or clinical research when starting medical school later this year.
As for the weather, she joked, "I made a lot of snowmen to make up for that."
Leave a Comment
About the Contributor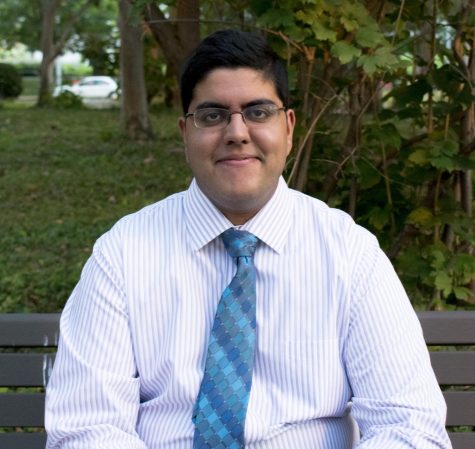 Kushagra Gupta, Director of Print
Kushagra Gupta is a cognitive science and biology student and is working towards a masters in medical physiology. He's served as The Observer's The Director...