Third-year shortstop wipes off the dirt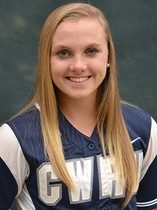 "Those who try to do something and fail are infinitely better than those who try to do nothing and succeed," said third-year shortstop Nicole Doyle, sharing a quote that empowers her.
Doyle believes she thrives in any situation because she is not afraid: not afraid of players, not afraid of playing and especially not afraid of opportunity. She says she's out to become the best athlete and student that she can be.
Doyle immediately took Case Western Reserve University's softball team by storm her first year, starting all 40 games. Since then, she has gone on to receive a National Fastpitch Coaches Association (NFPCA) Third Team All-America selection and was named a University Athletic Association (UAA) First Team honoree, along with UAA All-Academic Honors.
Doyle's father helped her growth as an athlete. She recalled him spending hours and hours every season of the year practicing with her to work and perfect her skills. Even now, she gets constant support from her dad as he comes to every game, no matter where it is.
Since entering CWRU, one of Doyle's favorite games has been the team's defeat of Emory University last year. It was the first time she had ever been on the team for a victory against the tough Emory team. Doyle recalled scoring the winning run on a difficult scoring play, which made the game even more monumental.
Off Mather Park, Doyle is involved with a multitude of groups from Case Association of Student-Athletes to Kappa Alpha Theta. Additionally, she went on the Undergraduate Wall Street Trek this year to get more involved in her field of accounting.
Doyle found her love for accounting through the ample knowledge she is able to gain about the business world. Accounting encompasses many different career paths and opportunities, which excites her. Doyle also has an internship this summer with Morgan Stanley in New York City. She said she is excited to demonstrate her knowledge and learn even more on top of her already extensive accounting background.
As for when she's not hitting the books or on the field, Doyle likes to explore Cleveland.