Nepalese couple wins outstanding international graduate student award
Finding a soulmate and attending graduate school are two very different paths. For the married winners of the Outstanding International Graduate Students Award, Tirth Bhatta and Nirmala Lekhak, the two paths became intertwined.  
The Center for International Affairs awarded the Nepalese couple the award at the second annual International Achievement Dinner on April 11. The dinner was held to honor international students at Case Western Reserve University and students that studied abroad.
Bhatta and Lekhak had only met each other after moving to the United States. They got married in 2011, after which Lekhak joined Bhatta at CWRU.
Bhatta is a sixth-year graduate student who is studying sociology. His graduate work focuses on social justice issues, and he enjoys discussing them.
"I can tell you, being his wife, he reads a lot," said Lekhak, joking.
Lekhak is a fourth-year graduate student in nursing, the subject she studied as an undergraduate. Her current research is on meditation and its effects on cognition in older adults. She hopes to work in dementia prevention in the future.
Although in Nepal, members of their families had been friends, Bhatta and Lekhak only met in 2010, a year before Lekhak matriculated at CWRU.
At that time, Lekhak was working in a nursing home in Iowa while Bhatta was completing his graduate work in Ohio. The seven-hour drive between Iowa and Ohio, then unfamiliar to either, would soon be made regularly after they started to date each other.
The couple's first meeting took place digitally. They became friends on Facebook in 2010 due to the connectivity between their families. After exchanging messages for some time, they began to date.
In 2011, they got married in Nepal and soon after returned to America. While Bhatta joined CWRU in 2010, Lekhak only came to CWRU a year after their marriage.
Lekhak had planned to complete a master's program, but she took Bhatta's opinion into consideration and chose to pursue a Ph.D. degree instead.
Bhatta had completed his undergraduate degree in gerontology, a field that studies different aspects of aging. Soon after, he realized that he was interested in studying health disparities, specifically those that arise due to differences in people's education.
"It's an adventure, you know," said Bhatta. "I mean when you have just one trajectory, you would not get to learn as much as I did. I enjoyed learning. That's fun."
Both having enjoyed their time at CWRU and feel excited for the future. The couple hopes to graduate next year, together.
About the Contributor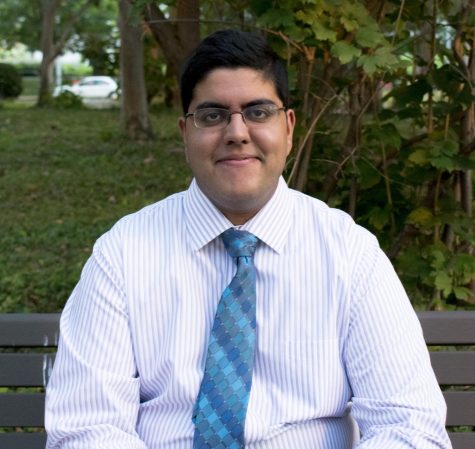 Kushagra Gupta, Director of Print
Kushagra Gupta is a cognitive science and biology student and is working towards a masters in medical physiology. He's served as The Observer's The Director...