Track and field teams finish fifth and sixth
Led by multiple performances that are ranked among the best in the entire University Athletic Association (UAA), the Case Western Reserve University track and field teams were able to take fifth and sixth out of 12 teams at the Wooster Invitational last weekend.
On the women's team, the top performers in the UAA were mainly throwers, including third-year student Temi Omilabu, third-year student Monica Hiller and first-year student Shannon Carroll. In hammer throw, Omilabu was able to finish third in the meet, first in the UAA this year, and 23rd in the NCAA with a distance of 45.9 meters. Hiller's distance of 41.64 meters placed her seventh in the meet and second in the UAA. In javelin throw, Carroll's distance of 30.68 meters placed her third in the meet and fourth in the conference. Another notable throwing performance was obtained by first-year student Mikhaylan Price, who finished 10th in shot put with a distance of 10.32 meters and 11th in discus with a distance of 32.93 meters.
The women's team also put in multiple first and second-place victories. Fourth-year students Taylor O'Neil and Kelsey Aamoth were both able to win events. O'Neil won the 800-meter run with a time of 2:23.27. Shortly behind her in third was Aamoth, who finished with a time of 2:25.61. Aamoth finished first in the 1,500-meter run with a time of 4:51.89.
In the 3,000-meter steeplechase, second-year student Danielle Kulpins finished second with a time of 11:23.91. Behind her in fourth place was fourth-year student Evy Hail with a time of 11:42.62. In the 5,000-meter, second-year student Rachel Laveson finished second with a time of 18:44.36.
The men's team was led by second-year student Grant Mlack and third-year student Joe Ledger. Ledger won the 800-meter run with a time of 1:59.46. Mlack came in third on the 110-meter hurdles with a time of 15.19 seconds. This time was a career best for Mlack, and placed him first in the UAA and 21st in all of DIII. Mlack also leads the UAA in the 400-meter hurdles with a time of 54.27 seconds which he obtained last week.
Two men's throwers were able to crack the top 10 in the UAA in their respective events. Second-year student Alex Nesvisky finished fourth in the conference in hammer with a distance of 40.64 meters, while second-year student Ryan DeMarinis placed in the top five in the conference in shot put with a 13.13 meter throw.
Other notable performers included third-year student Nathaniel Wahner, first-year student Ananth Suresh, third-year student Galen Caldwell and fourth-year student Chippy Kennedy. Wahner finished fourth in the meet and second in the conference in the 200-meter dash with a time of 22.71 seconds. Suresh finished fifth in both the meet and the conference by jumping 6.34 meters in long jump. Caldwell and Kennedy finished back to back to take the second and third spots in the 3,000-meter steeplechase. Their times were 9:43.54 and 9:48.92, which put them 24th and 33rd overall in DIII.
The next meet for the Spartans will be the Marv Frye Invitational at Ohio Wesleyan University on Sunday, April 10.
Leave a Comment
About the Contributor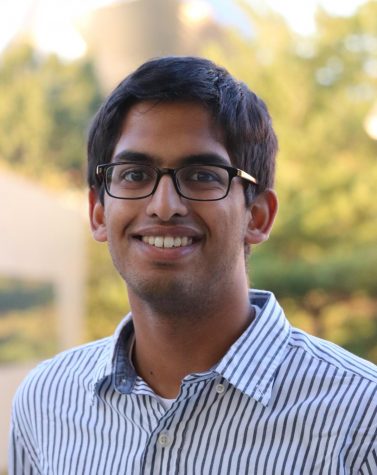 Shounak Bose, Web Editor
Shounak is a fourth-year biomedical engineer and is the web editor for The Observer. He is also a brother of the Delta Chi Fraternity, and is involved...