TVUC gets new trash cans
Single-stream recycling is the new green initiative at Case Western Reserve University.
Single-stream recycling is the process of combining all recyclables, such as glass, plastic or cardboard, together into one bin, instead of having consumers separate it themselves. Typically this combined hodgepodge then makes its way to a materials recovery factory (MRF), according to NPR. Various sources, including Waste Management Inc., claim that single-stream increases the amount of recycling collected by up to 30 percent.
"At CWRU, we traditionally use a multi-stream recycling system," Erin Kollar, CWRU's recycling coordinator, states. "We are considering transitioning to single-stream, putting paper, plastic, metal and glass all together. We're piloting that in high-service areas."
The Tinkham Veale University Center was the chosen place to test out this new method of recycling. The new signs are a lot easier to read and decipher than the old ones; items are going to either the landfill or the recycling bin. There isn't the worry of putting metal where plastic should go or contemplating what category any item in question falls under.
"We want to simplify the system to increase our recycling rate," Kollar said. "This is positive for sustainability."
The new trash bins at TVUC are just one of many new programs planned to reduce CWRU's carbon footprint. Figuring out the logistics to compost more than just pre-consumer waste is underway; the CWRU Office for Sustainability, CWRU Facilities department and Bon Appétit signed a contract with a new company that now transports compostable waste to Squire Valleevue Farm three times a week.
The CWRU Office for Sustainability recognizes that Northeast Ohio lacks infrastructure for commercial composting, which makes it difficult to compost for many events. Compostable plastic requires a commercial compost facility for adequate breakdown, and Squire Valleevue Farm is still testing its compost capabilities for the plastic made with polylactic acid.
According to Kollar, education is the main concern for raising awareness to go green. An educated campus best facilitates a working waste management, and plans to launch an education campaign within six months are underway.
Increasing recycling rate isn't always a good thing; recyclable items can often end up going to a landfill due to the limitations of the separation process at an MRF, as The Huffington Post noted in an article about MRFs. However a good measure of sustainability can still be defined by the diversion rate, or the rate at which waste is diverted away from landfills.
"We have a lot of room to go; our diversion rate is at 22 percent right now," Kollar said. "Hopefully we get up to 50 percent."
About the Contributor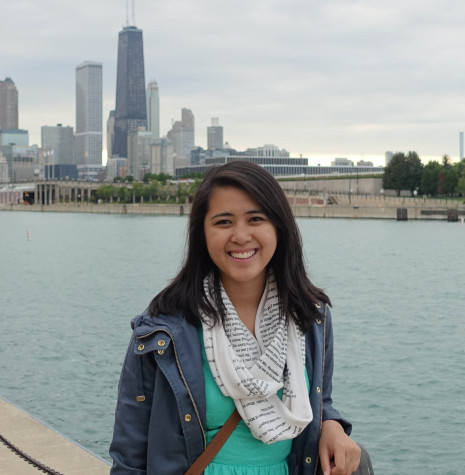 Jeniece Montellano, Social Media Editor
Jeniece Montellano is the social media editor for The Observer and occasionally covers stories for the news and arts and entertainment sections. She has...