Volleyball sweeps weekend, ready for conference play
The Case Western Reserve University Volleyball Team won all four of their games in the Carnegie Mellon DoubleTree Invitational on Friday, Sept. 25 and Saturday, Sept. 26, defeating Pomona-Pitzer, Brooklyn College, Stevenson and Westminster.
Leading the Spartans on the weekend were first-year setter Shannon Carroll (158 assists), third-year hitter Marian Barton (38 kills), third-year hitter Kayla Pfaff (23 kills, with 12 coming in one game), fourth-year captain Carolyn Bogart (57 kills and 44 digs), fourth-year libero Katie Best (58 digs) and fourth-year hitter Haley Kauffman (37 kills).
In the first match against the Sagehens, CWRU lost the first set 21-25, but recovered to win the next three tightly contested sets 25-22, 25-23, 25-19. With both sides playing with limited mistakes, the Spartans pulled ahead in sets two and three due to their strong blocking. The team managed seven blocks in the match, including three from Pfaff. "We had an unbelievable number of blocks," said head coach Karen Farrell. "So we were able to shut down their hitters." Set four saw CWRU pull ahead for good.
The second match was dominating for the Spartans as they defeated Brooklyn in straight sets, 25-9, 25-4, 25-9. CWRU showed they were the significantly better team and the blowout gave the inexperienced Spartans valuable time on the floor.
Stevenson could not win a set against the Spartans as CWRU won 25-23, 25-17, 25-23, though they were "a formidable opponent." The Spartans needed a strong serving game to "keep them out of system," said Farrell. Building off that, defense was critical. Farrell said, "We were able to score points directly from our serve receive." CWRU also put up a strong attack, with a .320 hitting percentage.
Westminster College, CWRU's final opponent, was familiar to CWRU, as the Spartans had already defeated the Titans in straight sets back on Sept. 12. This match's outcome was the same though the sets were different with CWRU winning 21-25, 31-29, 25-23, 25-16. The Titans came out strong and played a lot better than in the previous match. "They were the team we struggled the most with," said Farrell. The Spartans did make their most mistakes of the weekend, but they overcame those mistakes, especially in the razor thin second set, to take the match.
The Spartans start University Athletic Association (UAA) round robin games this weekend, Friday, Oct. 2 and Saturday, Oct. 3, as they play three in New York City. The first two, against No. 3 Emory University (15-2) and No. 21 Carnegie Mellon University (CMU) (18-2) are Friday and the third against Brandeis University (3-11) is on Saturday. The Spartans possess their best record heading into conference play since at least 2008.
"Emory's a very aggressive high powered offensive team with a very dominant setter," said Farrell, adding they are a confident team with very few weaknesses.
"Carnegie Mellon is highly emotional," Farrell said, which leads to inconsistent play over a match. "They can play at a really high level and then suddenly they can lose some momentum and struggle … They're an interesting team to follow." CMU has a few common opponents as CWRU, including Stevenson, Mount Union, John Carroll, Westminster and Pomona-Pitzer.
Both CMU and Emory challenge the Spartans with their size and speed. "For us to be able to … attack around their blocking and work through it, will be the difference in the match for us." Additionally CWRU will need to slow down both team's high-powered attacks.
"Brandeis looks like they're rebuilding," Farrell said, though she cautioned that no team can be overlooked. "Every match counts the same. It would be a mistake to overlook anyone in the UAA that's not nationally ranked."
About the Contributor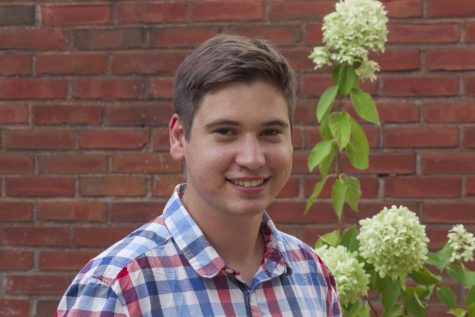 Eddie Kerekes, Executive Editor
Eddie Kerekes is in his fourth year studying chemical engineering while also pursuing a minor in German. He serves as the executive editor. Previous roles...