Wednesday night dance party
At the end of the RJD2 concert last Wednesday, Feb. 11, RJD2 (aka Ramble Jon Krohn) stepped down from the stage, slapping hands and thanking his loyal Case Western Reserve University audience.
Sweat trickled down his face. The room started to clear, guests walking out with glow sticks wrapped around their wrists. Krohn smiled for a few photos and answered questions to a couple of girls leaning over the pit barrier.
He seemed a lot shorter down here than he did onstage; when he started the performance as alter ego "Commissioner Crotch Buttons," his outrageous confidence made him the biggest person in the Tinkham Veale University Center ballroom. The Commissioner's outfit was completed with his sequin-covered jumpsuit, a spinning remote belt buckle and a large welding mask, which was fitted with a voice distorter.
The distortions were a little too thick. During the intro, the only words I could discern were, "get on that ass" and "nut sack," punctuated with a few aggressive pelvic thrusts. Commissioner Crotch Buttons soon stripped out of the frayed outfit and revealed the RJD2 stage presence, wearing a simple black t-shirt. He launched into "Her Majesty's Socialist Request" and other tunes, maintaining his signature laid-back, mashed-up fashion.
The concert was a success in terms of the performance. RJD2 was slick with each record scratch, transition and last-minute improv. The light show was on point, expressing the moods of each song and keeping up the energy behind the bustling DJ.
But the concert didn't reach its full potential for one major reason, and it had nothing to do with the performance itself: It was because of—you guessed it—hump day.
An ill-fated Wednesday night is never the best time for CWRU students to join in on an all-out dance party. The ballroom was sparsely filled with students, loosely joined together in a blob near the stage. I entered just after PSTRCHLD's performance, as people stood around in small cliques waiting for the headliner.
When the show started, University Program Board (UPB) and WRUW members danced throughout the crowd, randomly throwing fistfuls of glow sticks at groups of friends and shimmying past rows of wallflowers.
Their efforts got a few people moving and three people to sit on others' shoulders, bobbing up and down over the crowd. Overall, the room stayed at a mesmerized, low-level groove. It was hard to dance too crazily, when Krohn's precise stage work kept everyone in a trance state.
Working at least three different turntables, Krohn flicked different switches and scratched records in synchronicity. At one point, he threw a vinyl onto the record player like a Frisbee, landing perfectly in place for the next bit of the song. He pulled his forearm over his face, wiping away the quickly-collecting sweat, before scratching a steady rhythm on an old, fuzzy record.
RJD2 killed it, scratching out solos in popular tunes like "Ghostwriter," "A Beautiful Mine" and "1976." When the audience whooped and cheered him on, his lips turned up in a tiny smile, above his work on the records.
For a Wednesday night concert, RJD2 had a solid, mesmerizing set. But to have a good dancing concert, you need people to dance. I don't blame UPB or WRUW for the weak-ish Wednesday turnout, but the show would've been more of what was expected with a packed ballroom, not one that was only a third of the way filled.
I'm not complaining about the show though; dancing is nice, but it's not all there is to a concert. I commend UPB and WRUW's efforts at creating a rave in the TVUC ballroom, but it ended up being more of a hang-out kind of show.
Still, RJD2 on a Wednesday was just as good as RJD2 on any other day.
Concert: WRUW and UPB Present RJD2 and PSTRCHLD
Location: Tinkham Veale University Center ballroom
Date: Feb. 11, 2015
Rating: 4/5
About the Contributor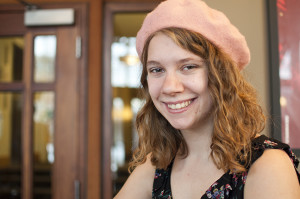 Anne Nickoloff, Director of Print
Anne Nickoloff, the Director of Print for The Observer, is a senior at Case Western. She hopes to one day be a music journalist, and has spent much of...