Zella Day, Seafair a powerful combination at Grog Shop
Indie bands Zella Day and Seafair have relatively little in common with each other when it comes to style. The former is a band of hippies, and the latter is a band of punks.
However, on Aug. 28 at the Grog Shop, their sets complimented each other in surprising ways.
A seemingly high Zella Day broke out some flower-child vocals, backed by a less-delicate indie band, which Day led, front and center. Seafair was more difficult to place; singer Chayla Hope's forceful vocals pushed forward with an interesting blend of instruments, including violin, cello and (at times) a trumpet, on top of a regular punk-rock lineup.
Seafair is strong enough to hold a headlining slot, even though they were the opener for Zella Day—this much was clear when they wrapped up their set. With multiple awards under their belt for 'Best Local Act' and with a sound that can't be mistaken for any other performing group, their show engaged the crowd despite some technical difficulties at the start. The bulk of the crowd arrived by the middle of their set, and didn't leave for the rest of it.
Before starting "Helmet and Anchor," the band's most popular song, Hope's pride was tangible. "This one's in a commercial with Lebron James," she said into the microphone, smiling.
Headliner Zella Day has also won many accolades since forming in 2012. Day's band has enjoyed some time on both Billboard's heatseekers and alternative charts, and they also appeared on "Conan" and had a song in 2015 film "Insurgent."
Day herself seemed a little out of it for the majority of the night, but maybe that helped with the ambiance of her faraway music. Immediately after finishing her first song, she looked out at the audience and said, "Let's get high together," and continued into the appropriately-titled song "High."
Later, she placed a tambourine on her head as a hat and promptly forgot about it for half of the song.
Zella Day was flowy, and Seafair was a little heavier. But both had leading female singers who carried the audience into a different state with their music. Seafair made casual conversation with the audience, joking with friends in front of the stage between songs. Day, on the other hand, walked into the crowd to sing "Compass" while the surrounding audience members circled her and sang along.
The entire evening was a constant reminder that there are different ways to engage a crowd, different ways to enjoy a concert and different ways to make really, really good music.
Concert: Zella Day, Seafair
Venue: Grog Shop
Date: Aug. 28
Rating: ★★★★☆
About the Contributor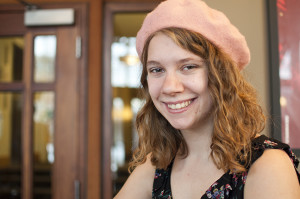 Anne Nickoloff, Director of Print
Anne Nickoloff, the Director of Print for The Observer, is a senior at Case Western. She hopes to one day be a music journalist, and has spent much of...