Former President of Lebanon Brings Middle East Issues Midwest
Hang on for a minute...we're trying to find some more stories you might like.
Students leaving class last Friday may have noticed the swarm of suits and students alike flocking to Millis Schmitt Auditorium. The point of their attraction was the keynote address led by the former President of Lebanon Amine Gemayel.
The event, titled "Managing the World Crisis of the Middle East: Imperatives and Alternatives,"  was devoted to understanding the instability of the Middle East and its global significance.
This event comes at a time where the Islamic State of Iraq and Syria (ISIS) has taken credit for numerous terror attacks and has captured significant territory in Iraq and Syria. The aggressive campaign of ISIS has taken a toll, over 30,000 individuals have died from the violence across the world.
Vice Provost of International Affairs David Fleshler started the night's event with an introduction and thanking the sponsoring organizations: the Center for International Affairs, the Office of Diversity, Inclusion and Equal Opportunity, the Cleveland Council for World Affairs, and the Kataeb Chapter of Cleveland.
"These kinds of events don't get put on without a lot of passion and hard work," Fleshler said.
To Fleshler, Case Western Reserve University has been committed to international affairs and endeavors.
"We really do cover the world at the university," Fleshler said "Over the past eight years, we have focused on internationalization. Our number of international students have more than doubled from eight years ago, and our number and percentage of students who go abroad has also more than doubled from eight years ago."
As the introduction finished, Gemayel took command of the podium. A flutter of cameras shutters and flashes went off—each preserving a moment of the historic event.
"Allow me to begin with an obvious conclusion, namely that the Middle East has become a destabilized and a destabilizing region," Gemayel said.
As Gemayel continued reading directly off his prepared speech, the audience never faltered in their attention and listened attentively to the Gemayel's soft-spoken, but impassioned words.
Gemayel attributed the current state of the Middle East to 11 diverse factors, which included the rise of the Islamic State, an increasing amounts of refugees and foreign state intervention.
"The Middle East crisis can and should be classified as a world crisis," Gemayel said. He continued his ominous prediction with the culmination of future ISIS world order characterized by rampant murder and slavery.
"Recent history offers ample warning of the threat and lessons about what must be done in response," Gemayel said. His cautions against the extremism were influenced by his own experiences. His brother Bachir Gemayel was assassinated in 1982. In 2006, his son Pierre Gemayel suffered the same fate.
Despite the tragic conditions in the Middle East currently, Gemayel is hopeful of a better future.
"I remain optimistic that we, meaning the liberal world, will regain our direction and prevail at the great task of  keeping ISIS and similar movements at bay and eventually beating them."
Following the address, Gemayel took questions from the audience.
CWRU Professor Ramez Islambouli asked Gemayel "Would you support [a candidate] for president of Lebanon even if he is not Maronite Christian?"
Islambouli, a native of Lebanon, was concerned that in order to further democratization, separation between religion and politics was a necessity. In Lebanon, Maronites are the prevalent religious denomination.
"You know in Lebanon the president has to be Maronite. The prime minister has to be Sunni Muslim. The house speaker has to be Shia Muslim. I think this is a problem for the democratization of our nation."
Gemayel did not answer his question directly but focused on the role of religion in Lebanese government.
"There is absolutely nothing in the Lebanese constitution that requires a Maronite president,  or a Sunni prime minister, or a Shia speaker," Gemayel said, acknowledging their implicit roles. "It's a necessity to preserve the national unity…. This kind of system provides Lebanon with a very important stability."
Gemayel continued to take questions from students and community alike. The event concluded with a reception in Hovorka Atrium.
Fleshler viewed the event as a success. He went on to explain, "What we're trying to do on campus is to bring this kind of view to Case Western Reserve University. The more we get internationally involved, the more students will be aware of global issues."
About the Writer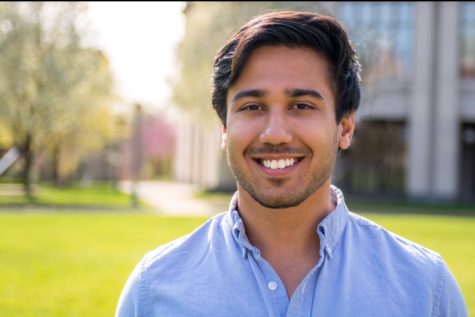 Anmol Nigam, Photography Editor
"Over-ripe sushi,
The Master
Is full of regret."

- Yosa Buson

You can contact him at axn236@case.edu.