A land purchase CWRU would like to forget
University pays $575,000 for disgraced dean's house
One of Case Western Reserve University's newest buildings isn't on campus. There are no classrooms, lab space or conference rooms, but it is equipped with the following: granite counter tops, a landscaped stone patio, two wood burning fireplaces, a detached 3 car garage and a "glamour bath."
Nobody's name graces the outside of this building; university officials would prefer to keep the previous owner out of the spotlight.
Cuyahoga County Fiscal Officer records indicate that on July 1, CWRU purchased former law school Dean Lawrence Mitchell's five-bedroom, three-and-a-half bath home for $575,000.
Mitchell resigned last March after Law School Professor Raymond Ku sued both Mitchell and CWRU, alleging that Mitchell retaliated against Ku for bringing forth a number of allegations of sexual harassment against the dean, his superior.
The lawsuit alleged that while at CWRU, six professors experienced sexually inappropriate harassment from Mitchell, along with four members of the administrative staff and a law student. Several of these individuals allegedly stated to Ku that they feared for their jobs if they reported Mitchell's misconduct.
The 3072 Fairmount Blvd. address is located in the middle of a residential Cleveland Heights neighborhood, a 10-minute drive from campus.
The timing of the purchase suggests that CWRU may have bought Mitchell's residence in preparation for an undisclosed settlement which ended Ku's lawsuit. The property was bought a week before the settlement was announced in a joint statement by representatives for CWRU, Mitchell and Ku.
Ku's legal counsel, Subodh Chandra, noted that Ku had no knowledge of or involvement in CWRU's purchase of former Dean Lawrence Mitchell's home.
"Until this media report, Professor Ku was completely unaware of the purchase," Chandra said.
University officials would not comment on the questions of why the university purchased the house or whether it was purchased in preparation for the settlement.
They did note, however, that the university is continuing to pursue plans for the property.
"We do not comment about individual faculty arrangements with the university, but we can confirm that we own the house and intend to sell or rent, depending on the circumstances," the university said in a statement.
A similar property across the street from the house is currently asking for $3,200 a month in rent.
Ryan Young, CWRU's listing agent from Kevin Williams Realty, confirmed that the university had listed the property for sale up until the end of last month. He would not comment on why CWRU pulled the house off the market.
Mitchell is set to return in a teaching capacity in August of 2015.
Subodh Chandra, Ku's lawyer, did not return request for comment as of press time.
Timeline of the CWRU School of Law and Lawrence Mitchell's legal drama
June 11, 2011
Lawrence Mitchell is hired as the Case Western Reserve University School of Law Dean after a tumultuous search. The school had been without a permanent dean since 2008. He had been a professor at George Washington University since 1991. While at George Washington University, Mitchell married a law school student, divorced her, married a subordinate law school professor, adopted a daughter and then ended that relationship as well.
October 23, 2013
Law School Professor Raymond Ku, a tenured CWRU School of Law faculty member who had previously served as the law school's associate dean for academic affairs, brings a lawsuit against CWRU and Mitchell. The suit alleges Mitchell committed sexually inappropriate acts while serving as dean of the law school, a role he has held since 2011, and that Ku was retaliated against for reporting such acts.
October 31, 2013
Ku submits an amended complaint, which expands on the allegations facing Mitchell. It suggests
that Mitchell and the university, including President Barbara Snyder and Provost and Executive Vice President W. A. "Bud" Baeslack III, colluded in retaliatory conduct following Ku's attempts to report sexual harassment by Mitchell in late 2011.
November 6, 2013
Mitchell takes a temporary leave of absence.
November 7, 2013
Mitchell's legal team files an emergency motion with Judge Peter J. Corrigan to strike parts of the case they deemed "immaterial, impertinent and scandalous."
The motion paints Ku as a "disgruntled professor," who was jealous he was not selected for the dean's position.
A week later Ku's attorneys file a countermotion a week later.
March 1, 2014
Mitchell steps down from his dean position. The suit is still ongoing.
July 1, 2014
CWRU purchases Mitchell's home in Cleveland Heights for $575,000.
July 8, 2014
Representatives for CWRU, Mitchell and Chandra offer a joint announcement saying that the three parties have reached an agreement. They do not reveal any terms of the settlement.
What Mitchell was accused of:
Engaging in sexually inappropriate conduct with female members of the faculty and staff of the Law School on multiple instances, including at a party at his house. These allegations include caressing a female colleague's bare back and making sexually charged comments toward subordinate employees. In a detailed affidavit, one of Mitchell's former assistants, Daniel Dubé, alleged that Mitchell propositioned him for a threesome and forced him to help cover up the dean's issues to keep his job. When Dubé finally reported Mitchell through the proper channels, he says he was "laid off for budgetary reasons."
What the settlement is believed to consist of:
CWRU purchasing Mitchell's house (due to timing of sale).
Ku being name the director of the law school's newly created Center for Cyberspace Law and Policy. (His appointment was publicized in the same press release that announced the settlement.)
Undisclosed other reparations.
Correction at 5:47 p.m. of Feb. 13, 2015: Subodh Chandra, Raymond Ku's legal counsel, noted that Ku had no knowledge of the purchase until  this media report. The Observer meant to characterize the purchase as "in preparation for the official settlement" instead of "as part of the official settlement" which ended Ku's suit. Lawrence Mitchell and CWRU were joint defendants on the suit, so the reporter meant to characterize the purchase as a way for CWRU to "settle" with Mitchell in order to convince him to accept the official settlement brokered between Ku and the defending parties. We apologize for the wording mistake. The timeline of the settlement and when the house was bought is correct.  
Leave a Comment
About the Contributor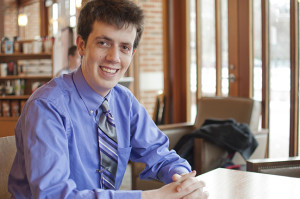 Mike McKenna, Executive Editor
Mike McKenna is a senior biology and psychology student currently serving as The Observer's Executive Editor, after spending last year in the Director...